You want to grow your dental practice. That's a given.
New patient acquisition is expensive. Another given.
What's a dental practice owner to do? If you have an unlimited marketing budget, you can simply put it into attracting and nurturing new patients. But I don't know many dental practice owners who have that luxury.
Fortunately, there are alternatives. One of the best options is to start a patient referral program. Here's how to do it.
What Is A Referral Program?
A patient referral program is a program that encourages and incentivizes your existing patients to refer other people to your practice.
You already know that it's costly to acquire new patients. In fact, as of 2020, it cost about five times as much to acquire a new patient as it does to hold on to an existing patient.
New patient acquisition is also time-consuming. It takes between 5 and 7 interactions with a brand for people to remember it.
Referral programs are both less expensive and less time-consuming than traditional patient acquisition methods. One of the biggest reasons is that they come with built-in social proof. Research shows that more than 80% of consumers trust a personal recommendation from a friend more than they would a review in a newspaper or magazine.
What Are The Benefits Of Starting A Patient Referral Program?
The biggest benefit of starting a patient referral program is that referral programs are proven to work. Here are some statistics that illustrate their potential.
60% of marketers say that referrals are an excellent source of leads
54% agree that the per-lead cost of referral programs is lower than other lead channels
78% of B2B marketers like referrals as a way of generating qualified leads
People who are referred by a friend are 4 times as likely to make a purchase as people who find your business any other way
Referral programs provide a low-cost, high-reward way to attract new patients to your practice. People are already asking your patients for recommendations. Your mission, should you choose to accept it, is to harness something they're already doing to make it beneficial for them – and profitable for you.
The Best Referral Program Ideas For Dental Practices
Now it's time for the fun part. There are dozens of different ways to set up a patient referral program and you can get creative with it. The main components you need are:
A fun and appealing name
Rules for how the program works
A system of incentives and rewards
A way to let your patients know about the program
One of the biggest things you'll need to decide ahead of time is when the rewards kick in. Will you give a patient a reward when they refer someone, or only if that referral turns into a new patient? It's important to be specific so that your patients know what to expect.
To get an idea of how your referral program can work, let's look at some examples.
GrubHub
GrubHub is a food delivery app that's become hugely popular. People can use it to order food from local restaurants and have it delivered to them at home or at work.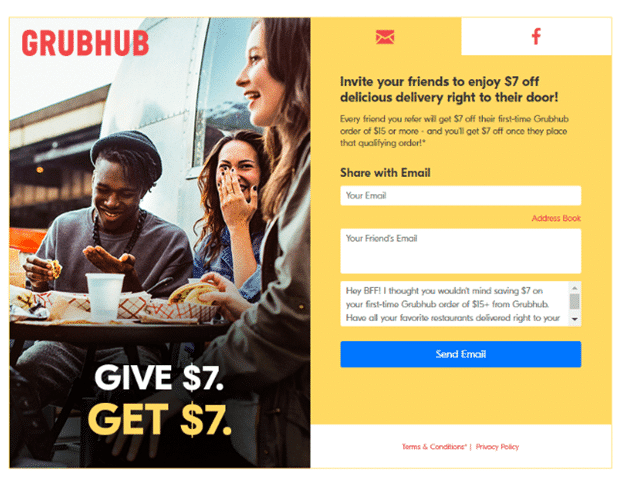 GrubHub's referral program is especially clever because it incentivizes people to order at both ends. When an existing GrubHub customer refers a friend, the friend gets a discount on their first order; AND the person who made the referral gets a discount at the same time.
I know a lot of people who use GrubHub and refer people for exactly this reason. It's a great program that is set up for success.
DapperTime
DapperTime is a watch company that puts a different spin on the discounting game. Instead of offering a flat discount, their referral program works more like an affiliate program.
The key difference here is that the person who does the referring earns a percentage of their friend's purchase. That way, if the friend turns into a big spender, the person who referred them will get to share in the rewards.
This model won't work for every business, but it's worth considering if you think it will appeal to your patients.
Hubstaff
Let's look at Hubstaff, who set up a recurring commission option.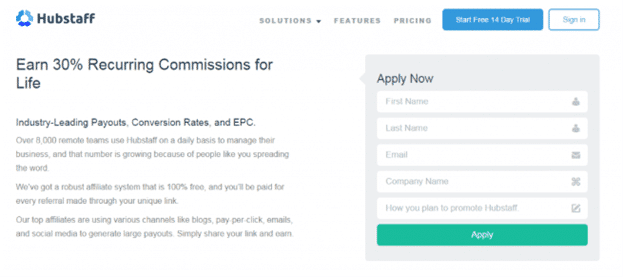 Participants in their referral program get a dedicated link they can use to refer people to Hubstaff. When one of their referrals signs up, they get a 30% commission for life.
Let's be clear. That's a big reward, and not one that every dental practice can afford to offer. However, because the payout is so attractive, it's the kind of thing that will incentivize people to participate because they'll start mentally spending their commission as soon as they hear about the program.
Dropbox
One of the earliest and most successful digital referral programs is the one created by Dropbox.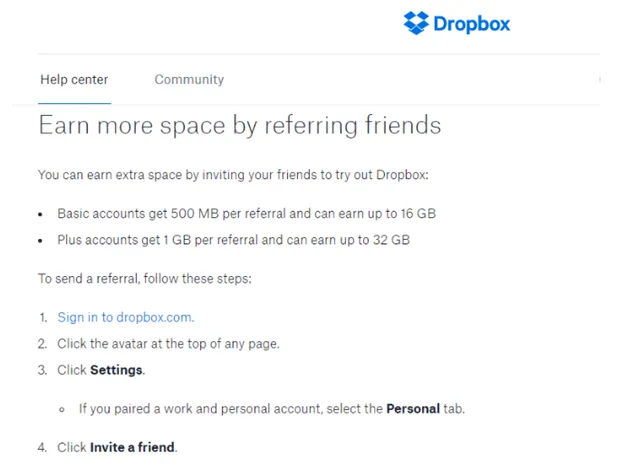 Instead of offering participants money back or a commission, they offered what is arguably their most valuable commodity:  storage space. For each friend that a customer refers, they get additional storage ranging from 500 MB to 1 GB per referral. That space is theirs for as long they have their Dropbox account.
Soylent
Not all referral programs offer a reward directly to participants. Some, like Soylent's, provide an opportunity to give the reward to people in need.
This program gives participants' friends a discount, and donates four meals to a food-related charity. In other words, the reward comes in the form of a good deed. People who join the program have the satisfaction of knowing they've helped someone who needs it.
A similar program is the one at PillPack, where each referral that results in a sale gets a $100 donation to a charity that builds healthcare facilities for children. Charity-based referral programs are highly appealing to Millennials, who like to align themselves with companies that share their values.
These are just a few examples of successful referral programs. My suggestion is that you start with your patients and figure out what's most likely to appeal to them. Then, you can work backward from there to create a referral program that works for both them and you.
Tools To Build Your Referral Program
Not sure how to start building your referral program? Here are a few tools that can help you do it with a minimum of time and trouble.
These are just a few of the software options available. You can read reviews and compare your options here.
What are you waiting for? Starting a patient referral program now is one of the best ways to focus on new patient acquisition and secure your future success!
Talk to the referral program experts at Dental Marketing Heroes – book a discovery call with us now!