Watch the webinar replay of 'The 2022 Guide To Google Maps – How To Get Your Dental Practice Ranked On The Map'.
Thank you so much for joining us. For today's session, we're going to be talking all about Google Maps and what it takes to get ranked on Google Maps in your local area for the most important keywords. You're in the right place!
Getting ranked on Google Maps needs to be part of your overall marketing strategy. If you think about how we can really maximize your lead flow via the Internet, we need to think about it foundationally. We want to have a good website that's built to convert; we want to make sure that it's ranking in the maps in the organic listings; that it's coming up where your patients and prospective patients are searching for you; and then we want to put some rocket fuel behind it by running paid search ads and by putting retargeting in place so that we can track the people that get to your website and bring them back, especially those that don't convert. (And just so you know, our next webinar that's coming up in July is about retargeting.) We want to make sure we're in some of the paid and the free online directories. And then we want to make sure we are leveraging smart marketing strategies with marketing automation to convert the leads that we get at the highest level possible, and leverage email and text messaging to turn them into lifetime patients that choose us as their dentist again and again. This is what we call our digital dominance method. It's the big picture to really maximize your lead flow via the Internet.
And earlier this year, we did our marketing strategy and planning webinar that's still available online, where we map this out at a high level. We then had a session on the new SEO formula for dentists, specifically how to set up your website to rank organically and attract more patients. The month before that, we talked about how to set up your website to convert. It covered things like, what do we want to have on our website from a messaging standpoint to make sure that it converts at the highest level possible? We don't want to just be attracting more prospects, we want to be converting them into patients. And last month, we looked at Google Business Profiles and how to leverage that to attract more patients. (Click any of these links to  watch the previous webinars for free!)
Today we're going to do a deep dive into Google Maps. So I just want to frame for you that Google Maps isn't a silver bullet, just like any of the other things we've talked about. And you don't just do Google Maps in a vacuum, right? You do Google Maps as part of an overall marketing strategy to truly maximize your lead flow. And if you want to go back and access any of those other trainings, just reach out to me or visit our webinar page on our website, which has links to all of them.
I really believe if you understand the way Google Maps works, and you understand what you can do to tweak your Google Maps strategy and you start to rank better on that, it's going to make a profound difference in your practice and you're going to make a lot more money. And then this time will be well worth it.
So what will we cover today? Here's what we're going to dive into on today's session…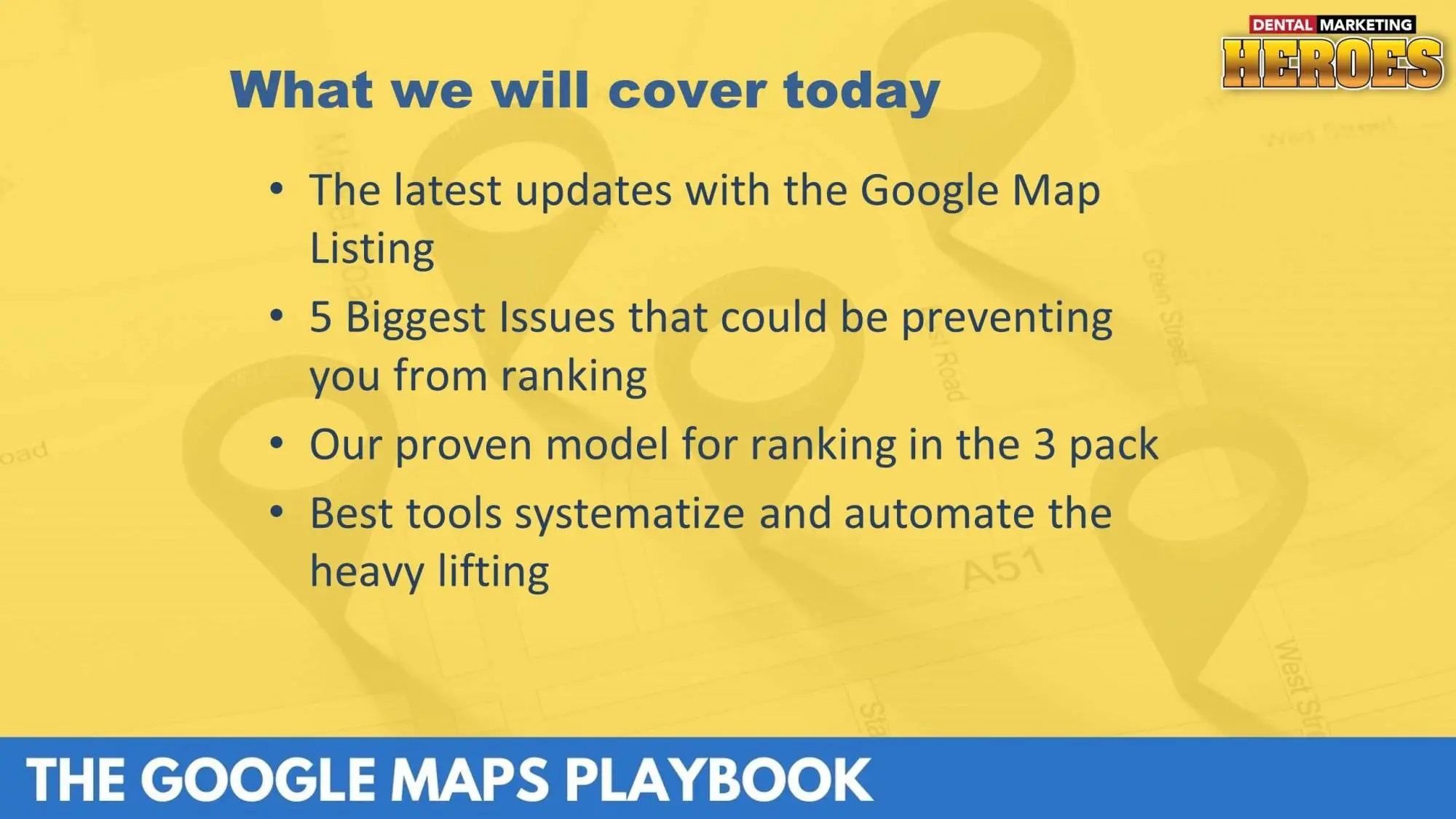 We're going to talk about the latest changes with Google Map listings.

And like I said, the Google Maps are constantly changing. What used to work before could actually be hurting you today. So we're going to talk about what's the latest and the greatest.

We're going to talk about the five things that could actually be drawing your listings down, the things that are hurting you. Sometimes I talk with dentists who say, I used to rank number one for all of this stuff, and now I don't — what happened?

There are five potential things we found that could really be pulling your rankings down on the Google Maps. We're going to show you those and what you need to do to get around them.

And then we're going to show you our proven three-step process for getting ranked in Google Maps.

And I'm going to share some of my favorite tools which systematize and automate the heavy lifting. I'm going to walk you through how to do it.

I'm going to talk you through the way to make it happen.

And then I'm going to share some tools with you to say, hey, look, use this tool to do this. Use that tool to do this. And we'll make this really straightforward, really simple, and most importantly for you, very applicable so you can walk away from today's session with some very specific next steps and be very clear on what you need to do next.
I love sharing information with practice owners like yourself. And to that end, I'll be offering a free resource at the end of the webinar. And I'll also be sharing some other valuable resources throughout the webinar. So stick to the end and get the link to get a free eBook that aligns with our discussion today!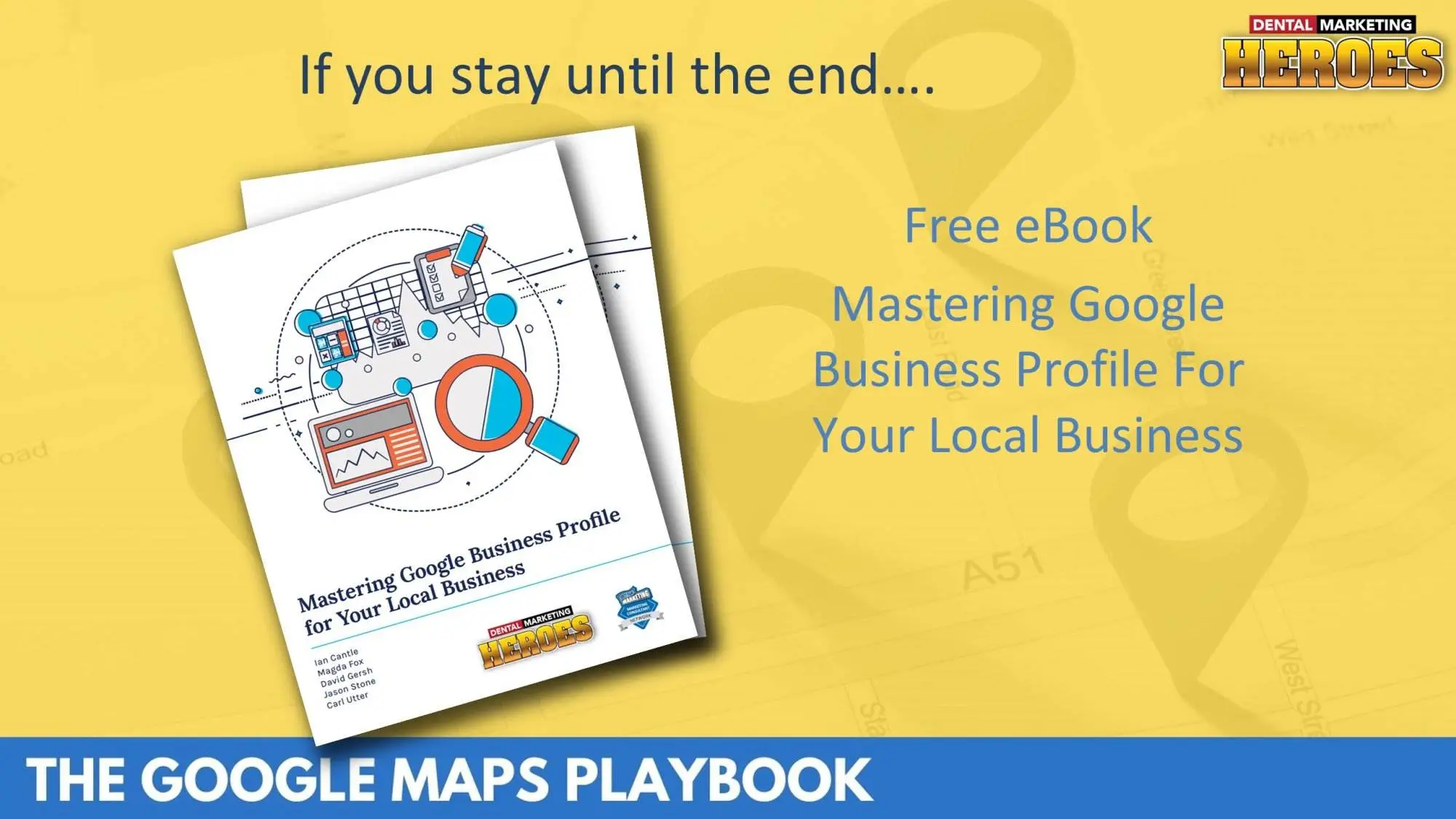 Who Am I?
So before we dive all the way in… real quick, who am I? Why should you listen to Ian? Well, my superpower is marketing strategy and implementation. I bring over 20 years of experience helping businesses market themselves. I've co-authored an Amazon best-selling SEO book called 'Content Marketing for Local Search, Creating Content that Google Loves and Prospects Devour', it's on Amazon. I'm also a weekly podcaster on the Marketing Guides For Small Businesses podcast. I am up to date with the latest trends and certifications so that my clients know that everything that can be done is being done in the best ways.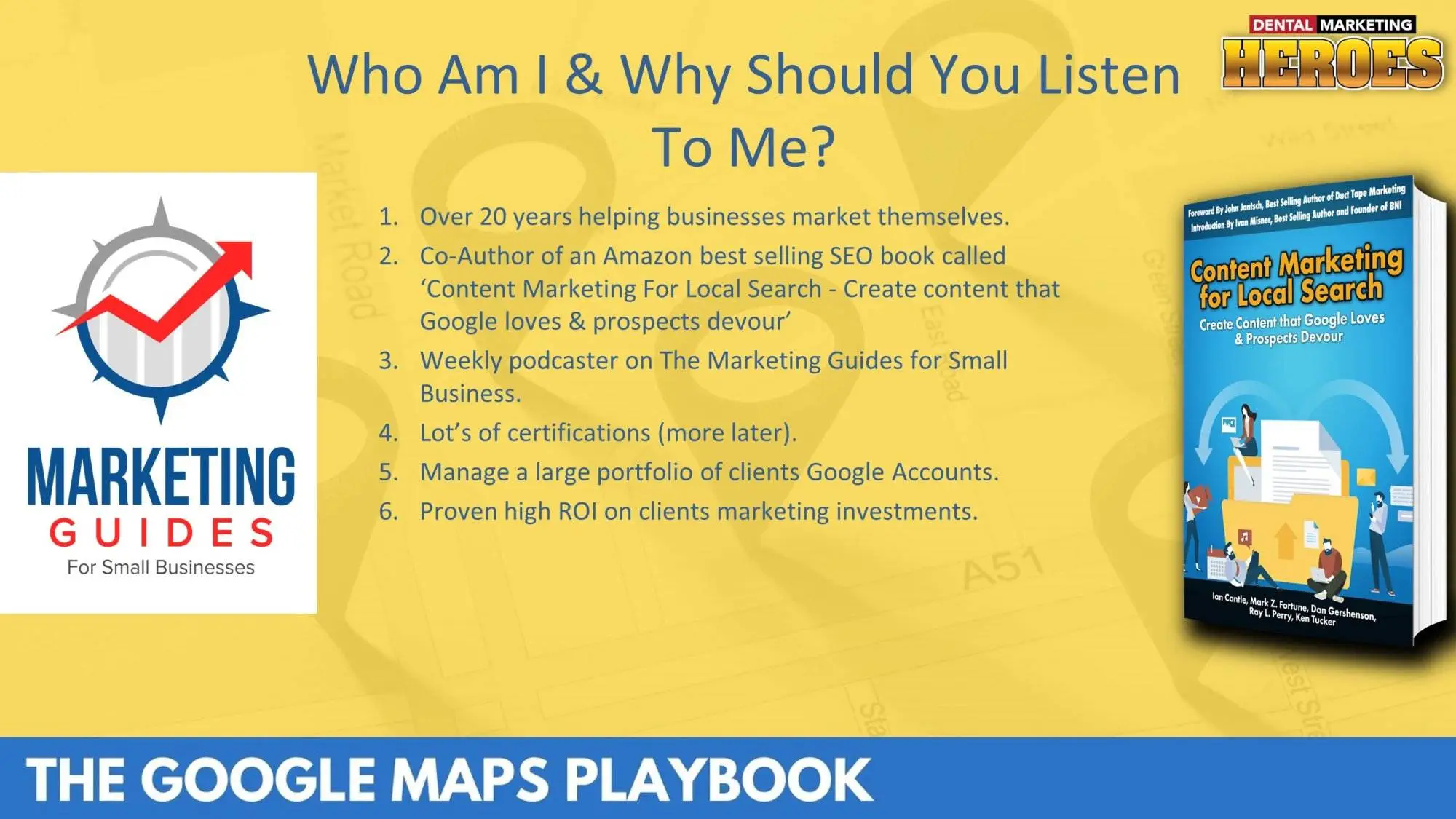 But most importantly to you as a practice owner is I have consistently delivered very high returns on my clients' marketing investments. So I hope this puts your mind at ease that the information I'm sharing today is grounded in a lot of experience and best practices. And if you don't know Dental Marketing Heroes, it's a dental marketing agency that specializes in helping dentists just like you see an incredible return on marketing investment, and we consistently see results of five times, ten times and sometimes over 100 times return on investment for our clients. This is what we do all day, every day. We build websites, claim directory listings, do the SEO, do the pay-per-click, and really help our clients maximize their lead flow so they can focus on what they do best. And that's delivering amazing dental services to more and more amazing patients.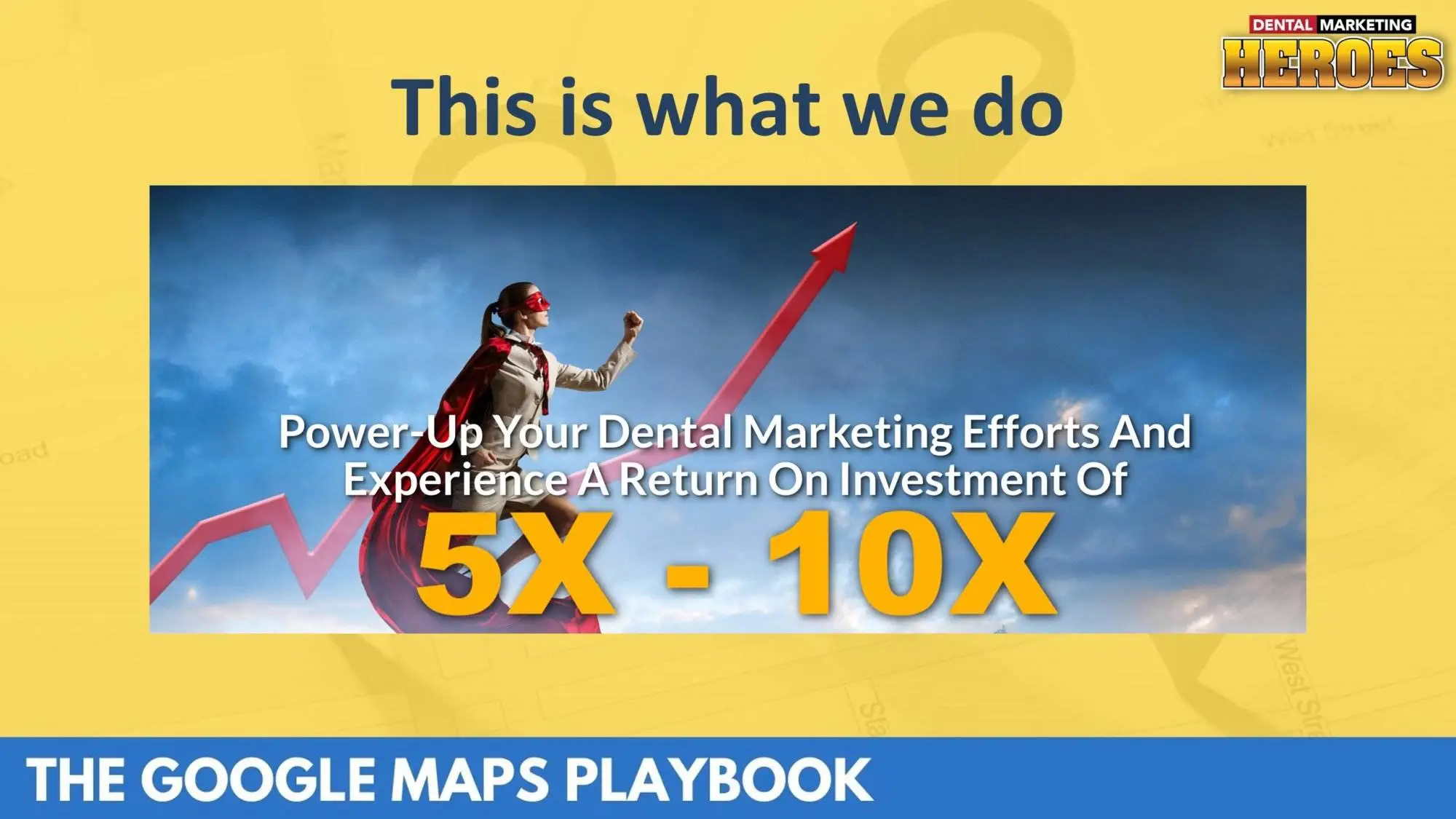 And so as you're listening to this, at some point, if you're like, you know what? I would love to have Ian and his team do this for us — to just manage our Google Map listings and get us ranked and help us take things to the next level. If that's you, reach out to me — I'd love the opportunity to talk to you. It would be a no-obligation, no-pressure evaluation. We would walk through and just show you, hey, here's what we do, here's how much it would cost. And if you want us to run with it for you, by all means, we would love that opportunity. So there's the prelude.
Does Google Maps Matter?
Let's dive into it. And I think before we can really even talk about how to rank on Google Maps, we need to spend a little bit of time just evaluating, does Google Maps still matter? Is it still worth focusing your time and energy on it? And you might wonder that because you've noticed that search engines, results, listings have changed — they've changed a lot. You may be asking, do Google Maps really matter to my practice? The short answer is a resounding yes, but let me show you why.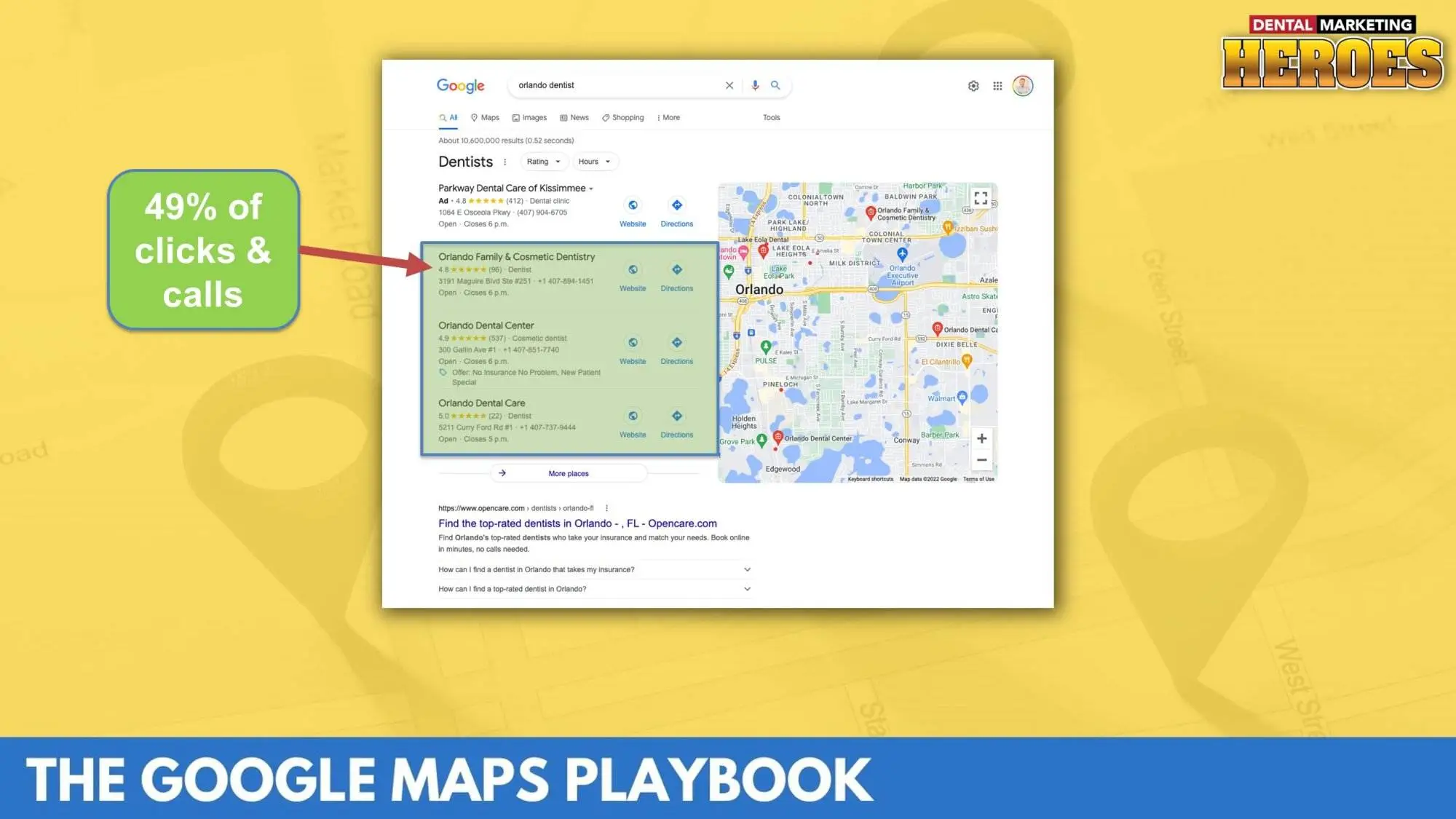 So here's the reality. When we go to Google right now or your patient goes to Google right now and they type in your city plus your service, they typically type in something like 'Orlando Dentist'. As you can see in the example above — if they're in Orlando of course — we usually have one to three paid ads at the top. We've got the map listings, and then we've got the organic listings below that. Here's what we found and what we're seeing right now as it sits today:  more than 49% of the clicks and calls are coming directly from people clicking on the Google Maps top three listings.
And Google is trying to make more money on pay-per-click by putting it at the top of the results in Maps, but also above that. But, consumers still want to click on the map or on the organic listings. They want to see the reviews, and that's where they're clicking and that's where they're calling. They're picking up the phone, they're clicking the click-to-call button. We see more than 49% of the traffic comes through that specific channel.
So, yes, without question, Google Maps is important. And it's worth the energy and attention to really get this dialed in for your practice. And when you rank in the top three, it can make a huge difference on your lead flow and on your results. Let's look at a couple of real-world examples.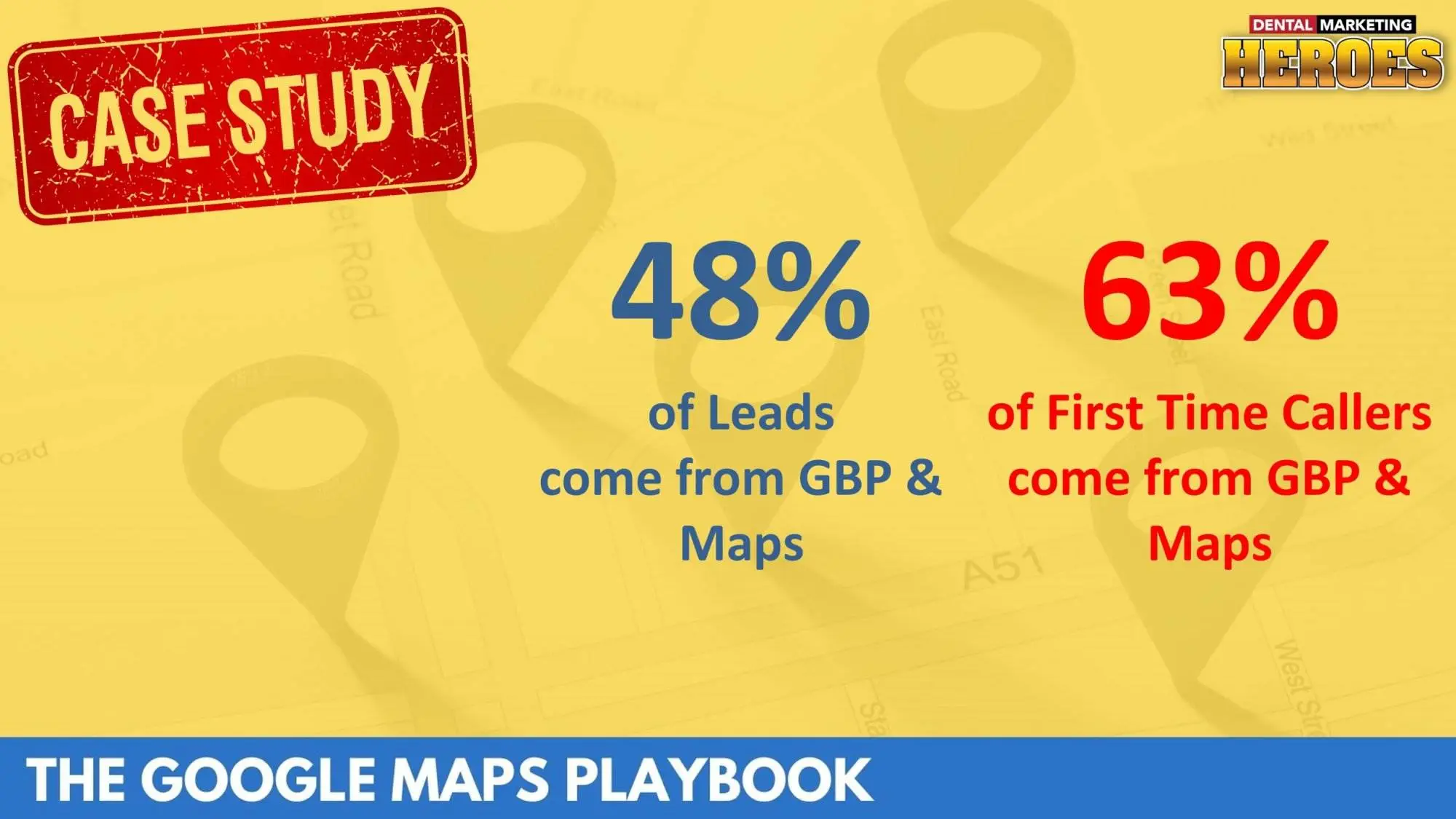 When we reviewed our clients' attribution of leads, we found that 48% of leads came through their Google Business Profile and Google Maps listings. And when we looked at first-time callers — so that was overall callers and clicks — when we looked at first-time callers alone, that number rose even higher to a whopping 63% of all calls and clicks coming from Google Business Profiles and Maps. So it really pays to focus on that. And we found with one client who was receiving over 60 new leads alone from Google Maps in a month, 68 new leads. That's more leads than many dentists get from all of their activities.
So let me say it again. Yes, Google Maps drives calls. You can't rely on pay-per-click alone. Google Maps is a vital part of your overall search engine optimization strategy. Here's what you need to do.
I want you to know what I'm going to show you matters. And we have a proven model to get the result right. A lot of us have been programmed to think it's all about paid search. So we just have to raise our pay-per-click budget and we're going to grow our results. And yes, that is part of it. But the reality is you've seen that the lion's share of the leads are actually coming from organic results. And so, yes, you want to do paid search. You want to be tapping into all the lead sources that are out there, but you don't want to rely on them alone, and you don't want to ignore the organic search. So you don't want to sleep on Google Maps. 
How Google Maps Has Changed
So let's talk about the biggest changes. I'm going to talk about some of the changes just because you need to know this is constantly changing and constantly evolving, just like everything with Google. But then we're going to dive into what you need to do within your website, within your Google Business Profile, within your Google Maps optimization, to get ranked really well. So the changes over the last three to five years…
Google Map Listing Reduced From 7 Results To 3 — So, say you were number four. You used to show up in that top seven. Now it's down to three results. And so if you're not in the top three, you're not showing up. So that's a big, big change that could have a dramatic effect on your practice.
Google Is Now Serving Paid Ads In The Map Results — So you probably saw that in the last example that it had an ad above it. Sometimes it even shows three ads, so it will show three ads, three organic results. So that's a big change.
Google My Business Changed Its Name From Google My Business To Google Business Profiles — Again, it didn't radically change anything on the back end. But you as a business owner should know that because the dialect is changing.
Increased Scrutiny By Google Of Reviews — This is in order to weed out the fake ones, but a

s many businesses have experienced, they actually dialed this up too much. And we have clients who have lost legitimate reviews, and maybe you've experienced that as well. But don't worry, they're still there. 

And hopefully Google will figure that out. But the point is, reviews are super important and you have to keep getting them.

Manage Google Business Profile And Map Listings Directly In Google Search — Google has also made it possible for you to manage some aspects of your Google Business Profile and your map listings right in Google search.
Google Messaging Directly Inside Maps — And lastly, they've launched Google Messaging, and it's been introduced also within maps. And that's a direct way that people can contact you without picking up the phone.

It's like an instant message right to you.
So it's important to know that Google search results have changed over the years specifically related to maps, and it will continue to evolve. This is not a fly-by-night product. Google has invested a lot into this. And as you can see from the results I shared earlier, it's really important to businesses, and Google understands that. And Google wants to provide value and relevance to the marketplace.
How Do These Changes Impact Search Results?
So how does this impact search results? All those changes I talked about, as you can see here in the example below, the search results page has Google search ads, then the map listings, then the organic results. And you may have noticed that Google has not only dominated the top of the page with three ads, as you can see, but it has also placed ads within the map listings. And what's cut off at the bottom of the page is they've also placed ads at the bottom of the page.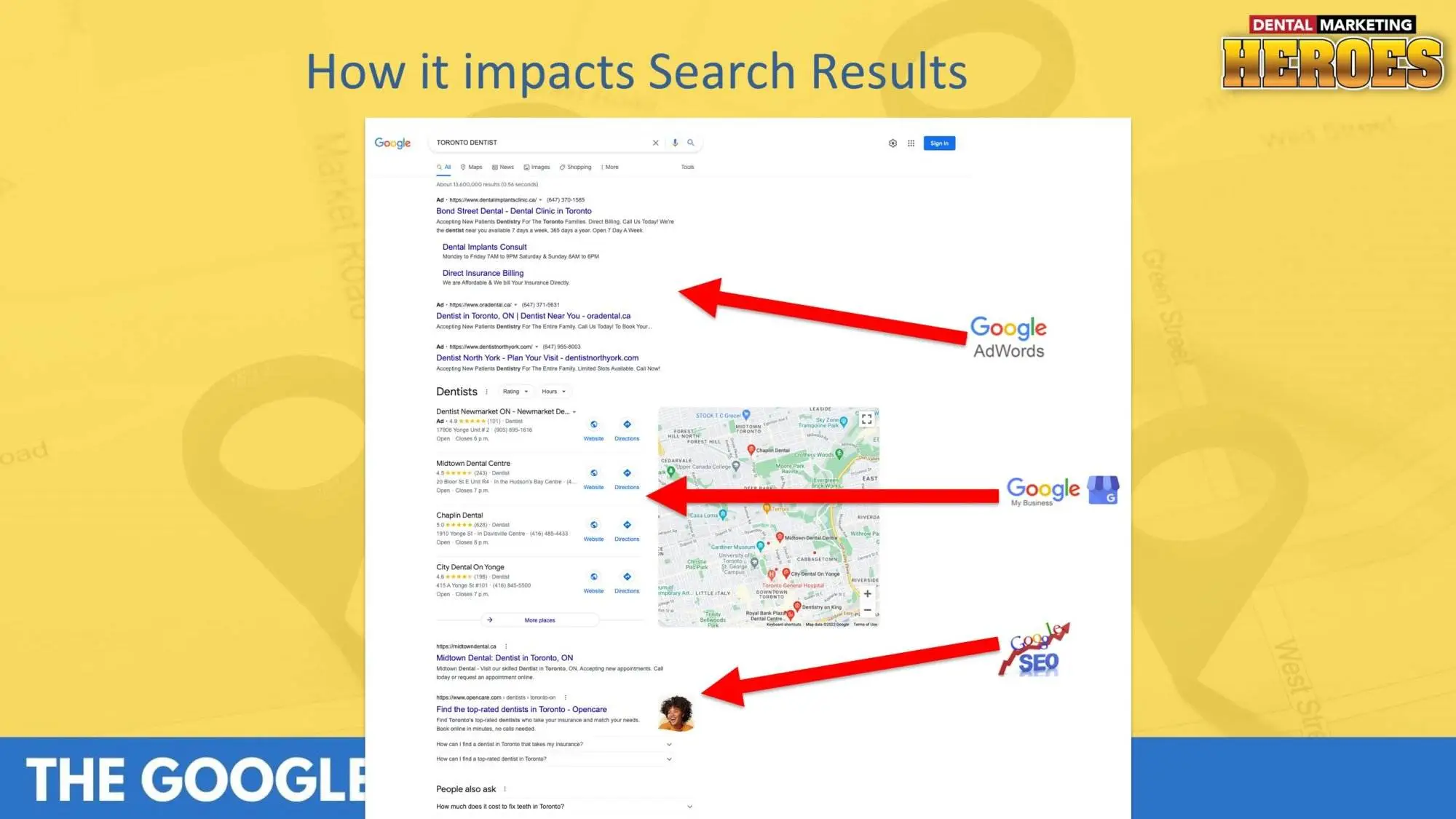 They're trying to maximize their revenue opportunities, obviously, but the only way they can do that is by presenting great organic results, because that's what people click on the most. So you need to own the search results page. I think ultimately the objective for every dentist is to try to best dominate all of the search results to show up, not just on the maps, not just in the paid search, not just in the organic results, but in every single section. If you run a search for your city dentist, your city dental clinic, your city dental implants, you're probably going to see results come up for third-party providers like Open Care or 1-800-dentists. You want to make sure that you're showing up on those results as well, because we want to dominate the page as a practice.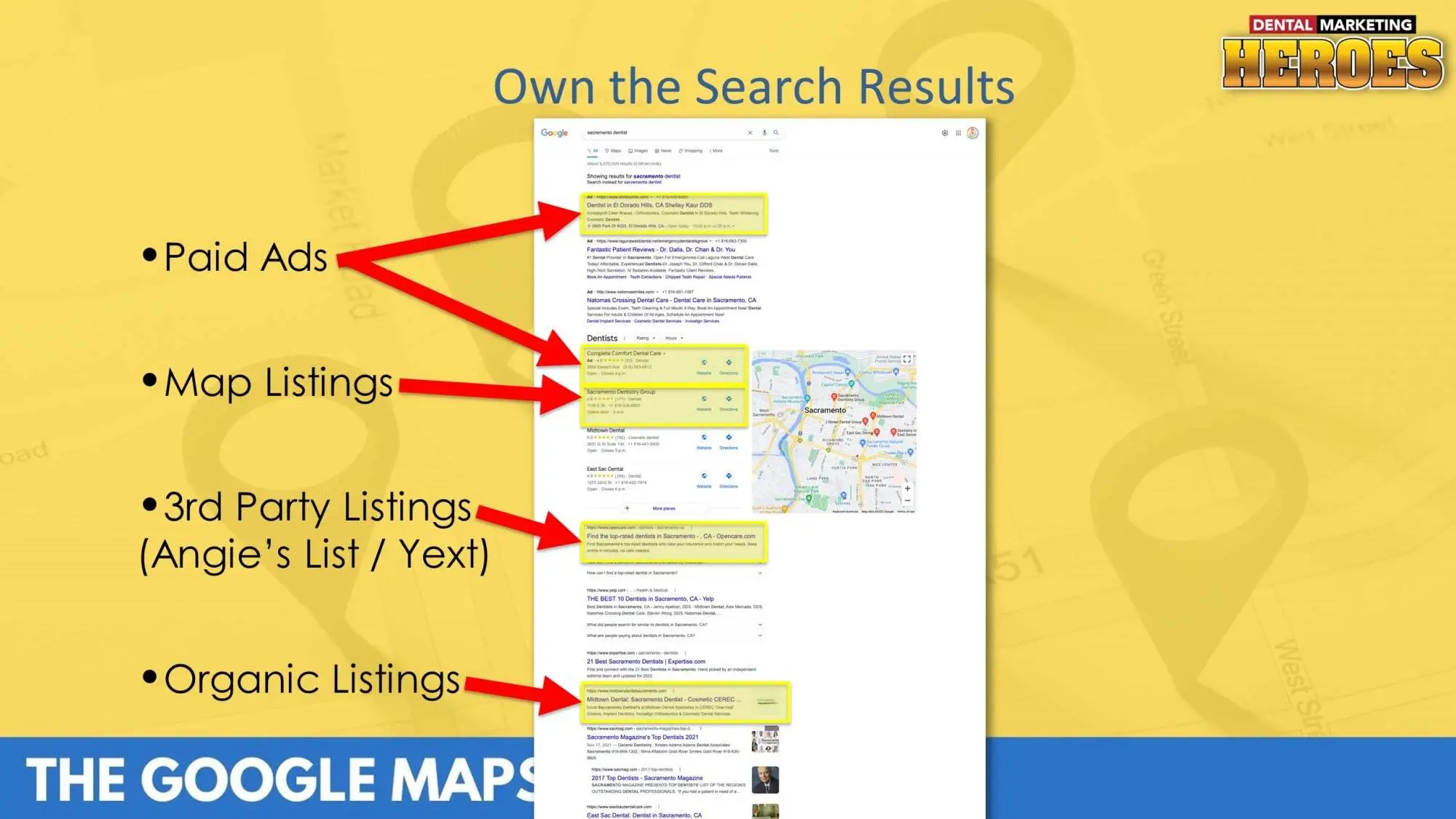 We want to get as many leads and as many calls as we can for those people that are qualified buyers. And don't make any mistake — the people that are searching on Google for your services are qualified buyers. They're the people that are putting up their hand and saying, 'I need a dentist'. And so you should never ignore that for the sake of Facebook ads or some other channel. These are qualified buyers ready to buy. They're looking for your services right at that particular moment of time. And these are qualified prospects.
Reduction Of Fake Google Maps Listings
The next big trend that we've seen is that Google has significantly reduced the number of map listings over the last couple of years. And that's really a function of their trying to clean up spam, just like I was talking about with reviews where some of those have gone missing because they're trying to clean those up. The same thing is true with actual profiles. They're trying to clean up the dentists and the other businesses that set up a bunch of fake listings just for the sake of ranking on Google Maps. And so I'm going to talk to you about some of the things that could be hurting you, but pay attention to this stat because they're really cracking down on this whole fake listing play.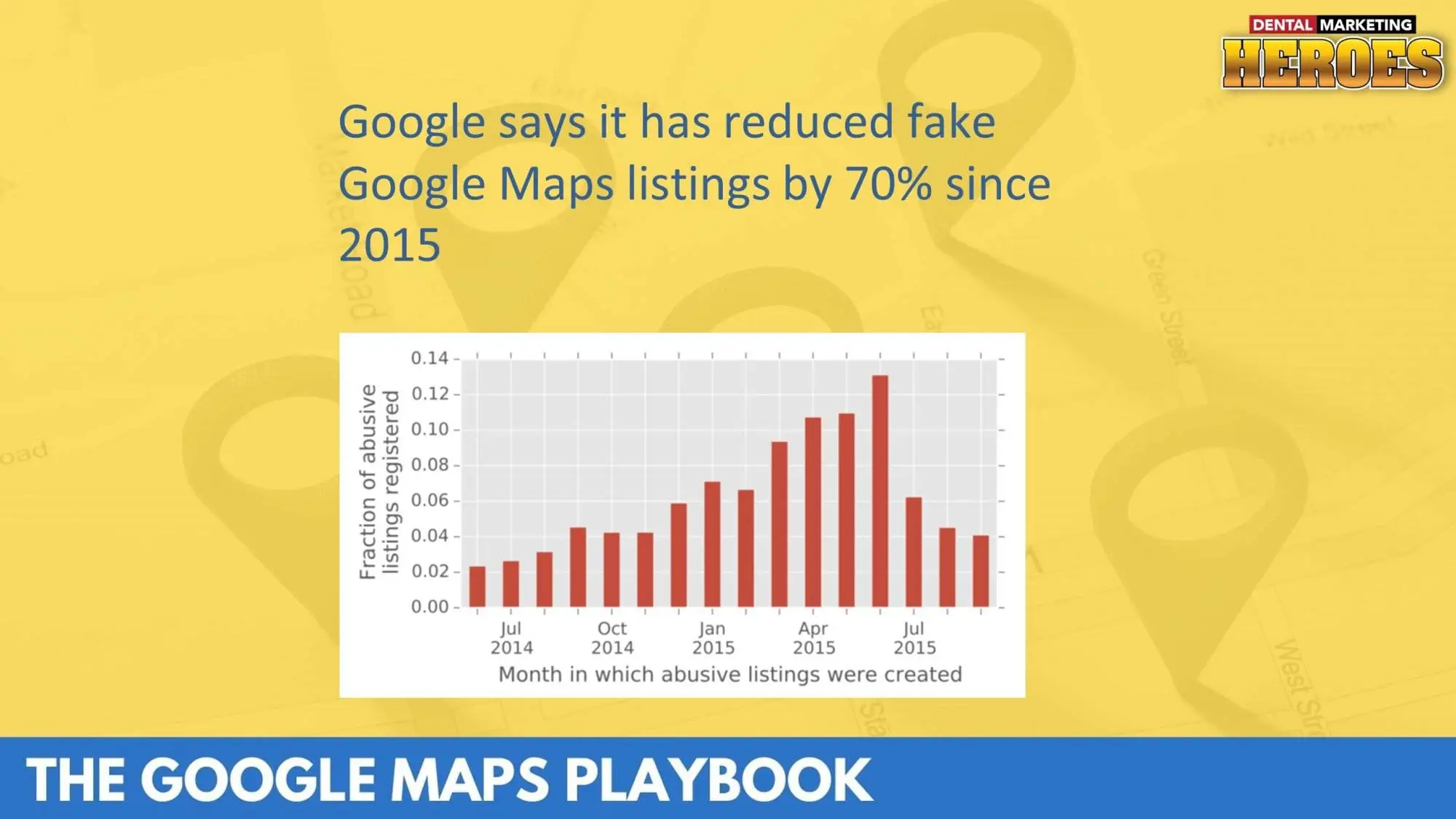 So 70% of listings, there's been a reduction of 70% of listings since 2015. So that's really something to pay attention to. So the thing that could be potentially hurting your rankings, things that may have actually helped you in the past that could actually be hurting you right now.
Number one, you need to really be located in the area you're trying to rank for, the area that your Google Business Profile is set up in. If you're trying to rank in New Port Richey, Florida, you need to actually have a location in New Port Richey, Florida, instead of trying to play the game of, 'well, I'm in Doral, but I want to be ranking in Miami, w

hy don't I rank in Miami?' You can do all of the right stuff, build your website, claim your directories, get hundreds of thousands of reviews… But it's going to be hard for you to rank outside of the city that you're in. So you need to have a physical location in the city that you're targeting.
If you tried to do spam listings in the past — so this was people just going out and claiming Google map listings in the surrounding cities and towns around their actual practice where they don't actually have a location, so they would go to their aunt's house, or they would go to their cousin's house, or they would go to their friend's office and try to claim a map listing there, they have five or six different locations around the area on the Google Maps — that worked really well in 2010. As of today, that doesn't fly. And in fact, it could actually get you discredited with Google and your map listing removed. So you do not want to do this. So what you do want to do is make sure that you've cleaned any of those fake listings up, because that will actually bring you down. It will prevent you from actually listing in your rankings.
The other thing that could be hurting you is inconsistency of your name, address and phone number. In the industry, we call that the NAP profile:  name, address, phone number. You want to make sure you're in all of the major online directories and listings. But in some cases, you may get listed as one company name, address and phone number on Google, but you get listed with different information on the other directory sites that may not exactly match what Google has. And so as Google scans the web, which it's constantly doing, it notices an inconsistent footprint, so to speak. And so you want to make sure that you've got a consistent reference of your name, address and phone number across the web, on every platform, every directory, your website, and on Google Business Profiles.
And then you want to make sure that you're not spamming your company name, you're not spamming your categories in Google Business Profiles. This means stuffing keywords into your profile name. It might be adding the city, it might be adding the services you do. That used to work. It doesn't work anymore. In fact, it will hurt you.
Have you been generating enough good quality real reviews in Google and on other properties? Reviews are very powerful and they can help your Google Maps ranking.
And the last thing that might be hurting your map rankings is incomplete information within your Google Business Profile. It's really important that you fill everything out within GDP or Google Business Profiles.
Proximity And Relevance
The other thing that could be hurting you that you should know about is that when it comes to map results, Google has stated that two of the most important factors are proximity and relevance:
Proximity of your location to the location of the person searching, which of course is super relevant because a lot of searches are done on mobile phones now and Google can see where they're searching from
Relevance of your content in your Google Business Profile listing and on your website, and how closely that matches with what they're looking for. For example, if I'm on the other side of the city and I'm looking for a dentist, it's going to show me the dentist closest to where I am. And from a relevance perspective, if I'm looking for teeth whitening and only some of the dentists in that area have filled out their profile or talk about that on their website, it's only going to show the people that do, because those are the most relevant results.
So that's why the information within your Google Business Profile is so vital.
So I just want to unpack our proven model and what we have found works really well for getting you ranked well. This isn't super fancy stuff, but it works extremely well. And as you've seen in the examples that I showed, it works extremely well.
Proven Formula For Ranking In The 3-Pack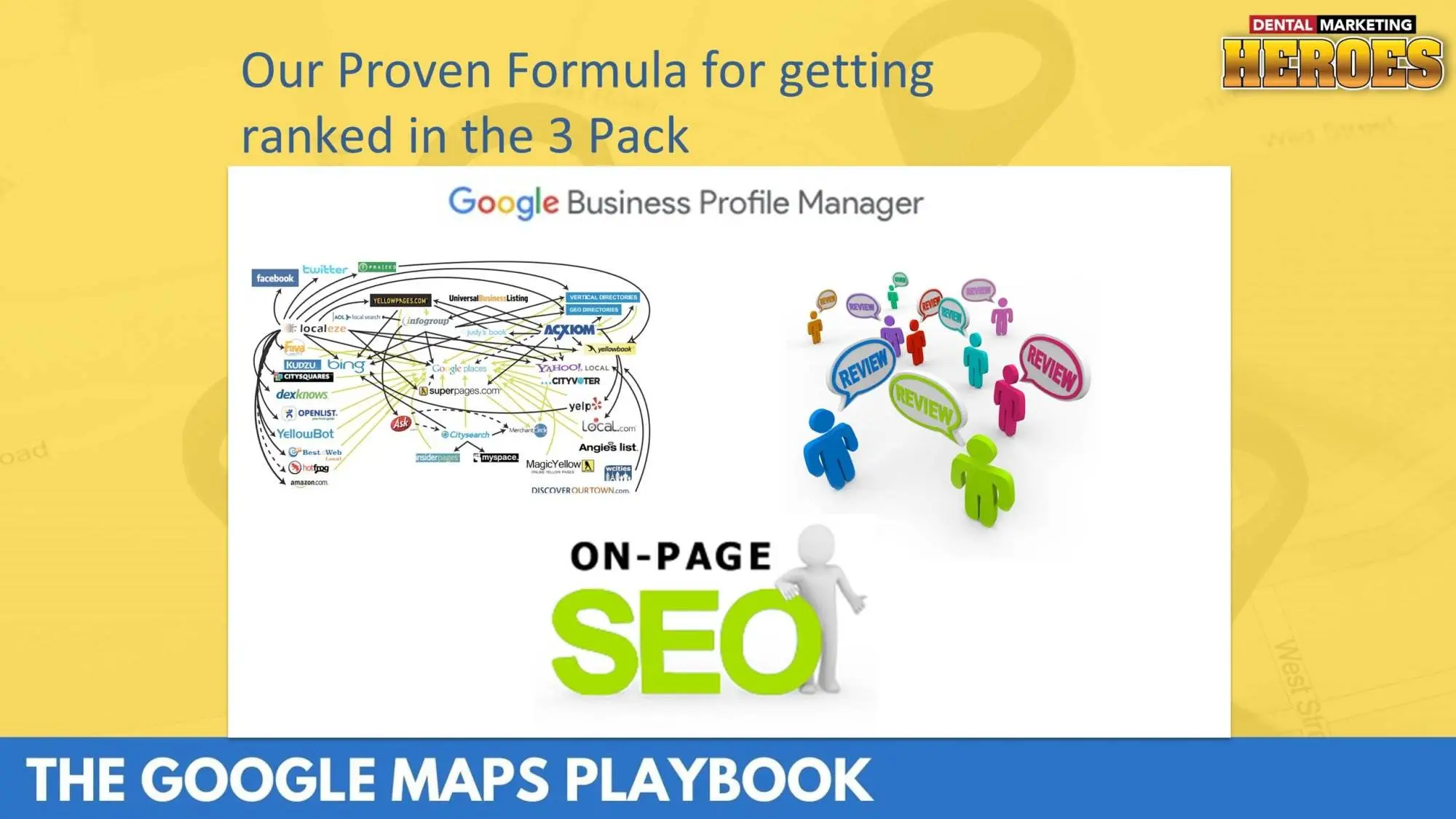 As we walk through this, the first thing we want to do is we want to claim and optimize your Google Business Profile. This is a free service from Google. You go to business.google.com and you claim your listing. 

That's super, super important because otherwise you're leaving the door open for somebody else to claim it. And if you don't claim the listing and verify it, you actually don't have access to the account in order to make the changes and optimizations you need to. And from there, you've got lots of things you can play with. And I'll show you some of these things that you can optimize, like your images, your name, the categories, your service area, all of those things. 

You want to make sure that you've claimed and fully optimized your Google Business Profile. So that's the first thing.

The second thing in this very messy image in the top left of the slide above is you want to have lots of web references. So references of your practice's name, address and phone number, the NAP that I talked about earlier, on all of the public sites across the Internet, there's hundreds of these directory sites, thousands of them. You want to be listed in those sites with the same name, address and phone number with consistency across the Web. That way Google says, okay, this company is on Google Maps, and they're also listed on all of these other sites with the same information.
Number three is you want to have reviews. You want to have real reviews from real patients in your area. I would say all other things being equal, if you're there and your competition is there as well, and they've claimed their Google Business Profile and they've optimized it, and they've got lots of citations just like you, and you've got lots of citations… the dentist that has the most legitimate reviews and the best rating from real patients on Google and on other public review sites is going to win the day. That's right. Reviews are so powerful. So you want to be providing great service. You want to leverage automation to get reviews from real customers and patients. And I'll be sharing some of the tools to help you do this. So it's like this:  

Claim your listing –> 

Optimize it correctly –> 

Get lots of citations –> 

Build up your review profile on the public sites.

And then number four is proper on-page search engine optimization. It's making sure that your website is optimized for the cities, for the services, and for the keywords that your prospective patients are searching for.
Simple stuff, right? We'll dive into this as we go, but these are the key things. These are the key elements that drive rankings and results on Google Maps.
1. Claiming Your Google Business Profile
So the first part I talked about here was claiming your Google Business Profile. 
You need to know what your Google Business Profile login is. Whether you're working with us or working with another company or doing it yourself, you should have the login information for your Google Business Profile, and you can obviously get into the dashboard to make changes. You'll be able to see what photos are being used. You can see what questions people are asking. So that is step number one, make sure that you've claimed your profile and you have a login that you can access Google Maps with.
Number two is you want to make sure that your name, as it sits on the Google Business Profile, is your actual company name. So if you're Chicago Dental Clinic, you want that to say 'Chicago Dental Clinic', not 'Chicago Dental Clinic, Dental Implants, Teeth Whitening and More'. Some, as we talked about spamming, some people try to spam a bunch of stuff into the Google Business Profile listings, and in the past, this could help your rankings. But today it's a very big red flag to Google. It's not hard for Google to look at the public records out there and see what companies are spamming them. And if you're going to play games with Google and you're going to try to stuff additional keywords into your company name — that will hurt your rankings. I really just recommend keeping your company name what it is now.
Next, make sure you use a secure web address for your website, starting with https when you link it into your Google Profile. First of all, this tells Google that security is important to you and they raise the relevance of that in their profiles. You also want to make sure it's a mobile-friendly website that you're sending them to because Google has moved to a mobile-first algorithm.
When referencing your phone number, I strongly recommend using a local phone number and not a toll-free number. Google places a higher value on that and people do as well.
When validating your profile, you should never use a PO box — that will get you knocked out very quickly because Google recognizes those as your address — it's against Google's policies and simply will not rank. And also think about when people are searching for your location for directions in Google Maps, you actually want it to send them to your actual location.
You do want to upload as many photos as you can and try to make them authentic ones. Authenticity always works best. Stock imagery does not use real photos of your team, real pictures of your clinic. Upload your logo and keep uploading photos every single month, keeping your profile fresh. It is amazing how many people look at photos, and Google in their Insights will actually show you the number of times your photos are shown.
Choose all the relevant subcategories available for your practice, and also create service listings and descriptions for each service you provide. Again, you're trying to give Google as many signals to connect with relevancy when people are searching.
And lastly, make sure that you list your hours of operation and the areas that you serve.
When you log into Google Business Profile, this is how it will look.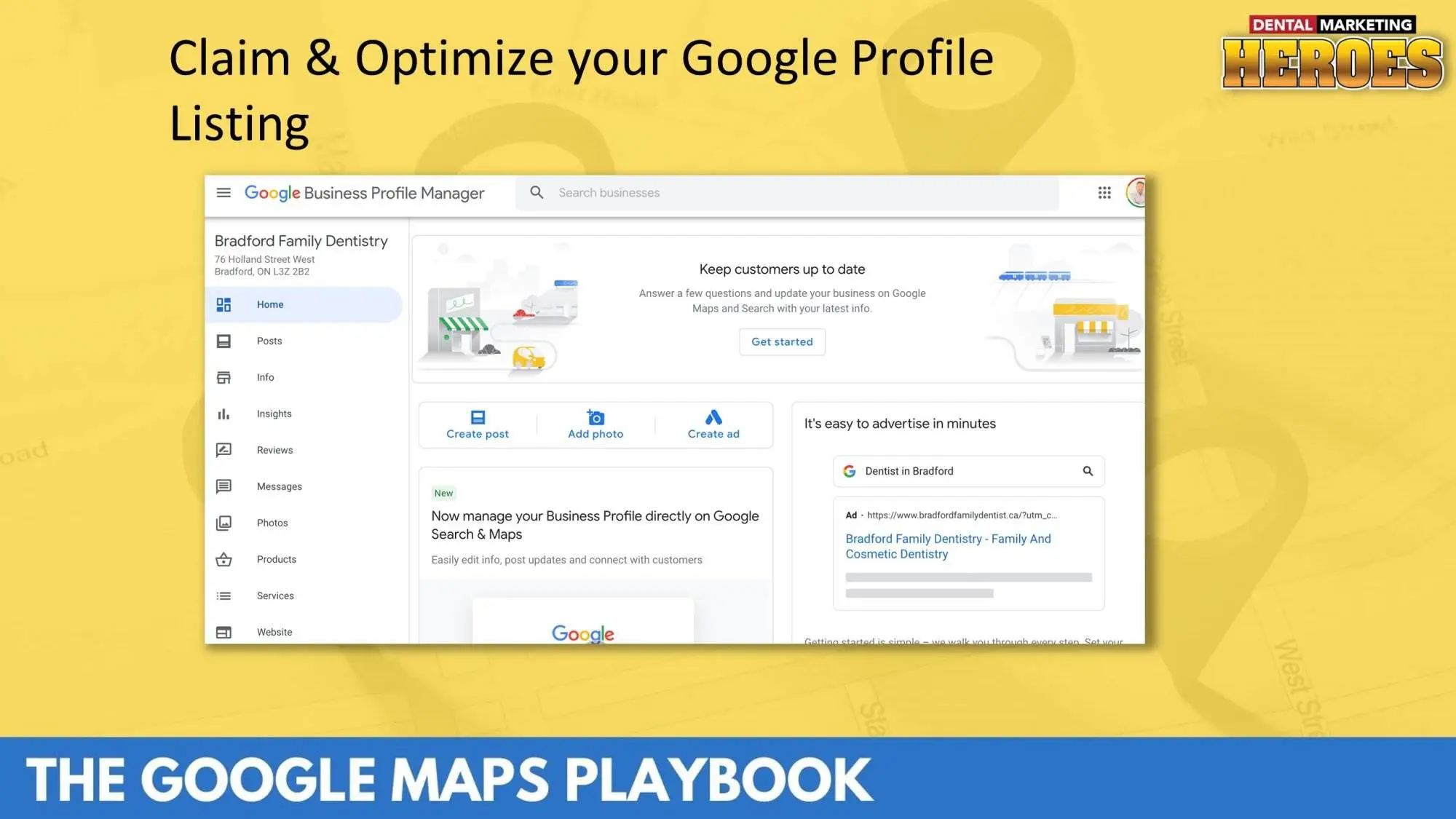 This is an actual profile.
You've got a home Dashboard
A Post section where you can post Google posts
You've got the Info tab, this is where you're going to do some of the basic optimization I'm talking about
You've got an Insights tab where you can see important data about how many people see your profile and click on it and the most popular hours for calls, h

ow many views did you get, how many calls are actually coming from the mobile click-to-call button, etc…

You've got Reviews where you can see all of the reviews people have left and you can respond to those reviews… and you should — we'll talk about that a little bit later
You've got a Messages tab where you can turn it on and people can communicate back and forth with you through your Google Business Profile if you have it enabled
So this is what Google Business Profiles backend Dashboard looks like. You want to make sure that you have access to this so that you can double check the information and your settings, and you want to make sure that your listing is verified.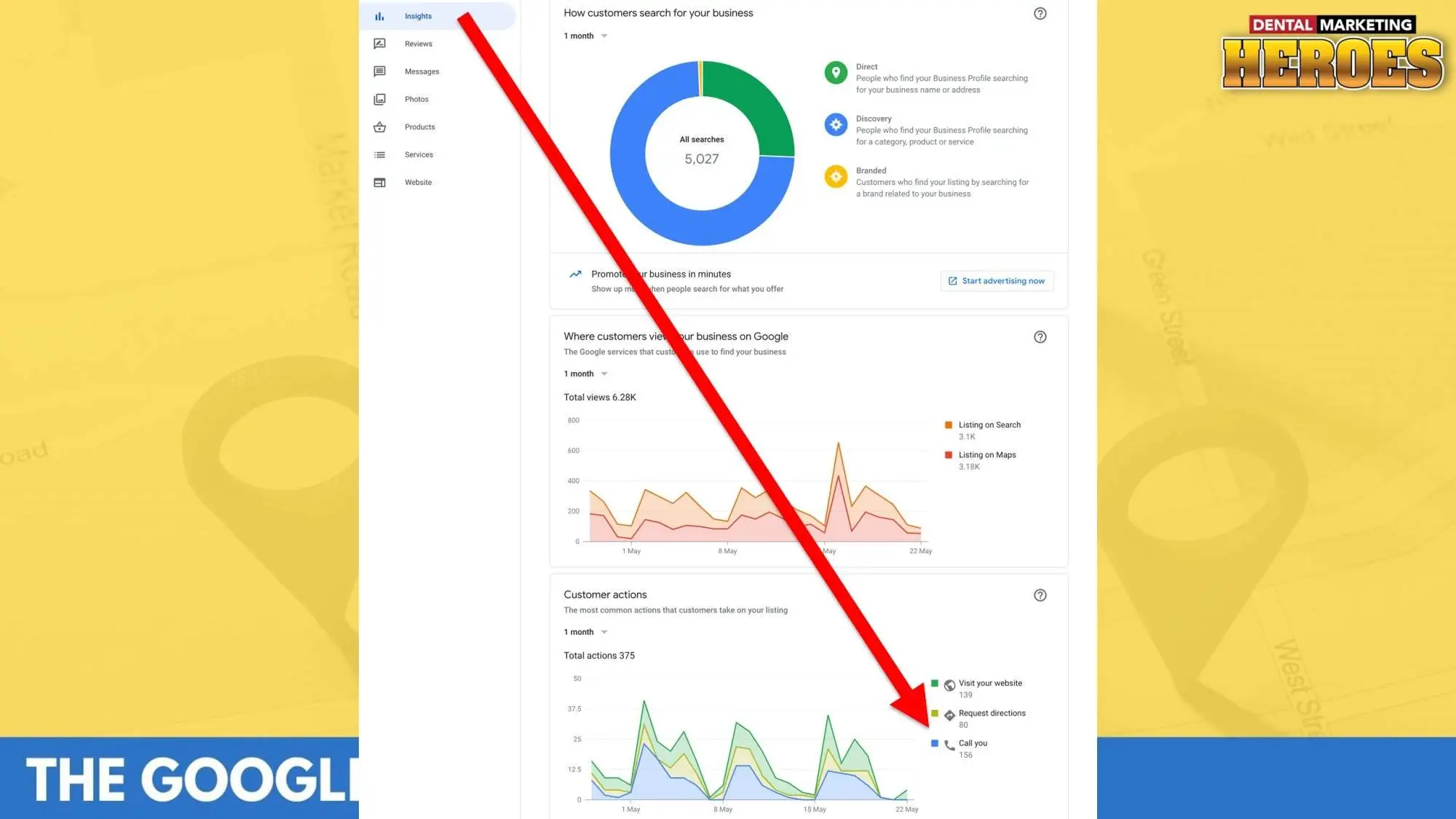 Let's take a quick look at Insights. Within Insights, this is your Google Business Profile Insights tab above, something that a lot of people don't realize is that if you scroll down to the Customer Actions tab, you'll be able to see how many people are calling you from Google, how many requested directions, and how many visited your website from Google Maps. This isn't super deep reporting, but it will help you know how things are going with your Google Business Profile. Note that most of the data is only available back three months, so it doesn't allow you to do historical comparisons to see how you've improved over time. But other tools can integrate with your Google Business Profile and allow you to do that. And agencies like our own do a lot of year-over-year reporting because we want to be able to see, hey, the levers that we've pulled, have they radically improved the number of calls and directions you've been getting? And of course, that's a really important factor for determining return on investment.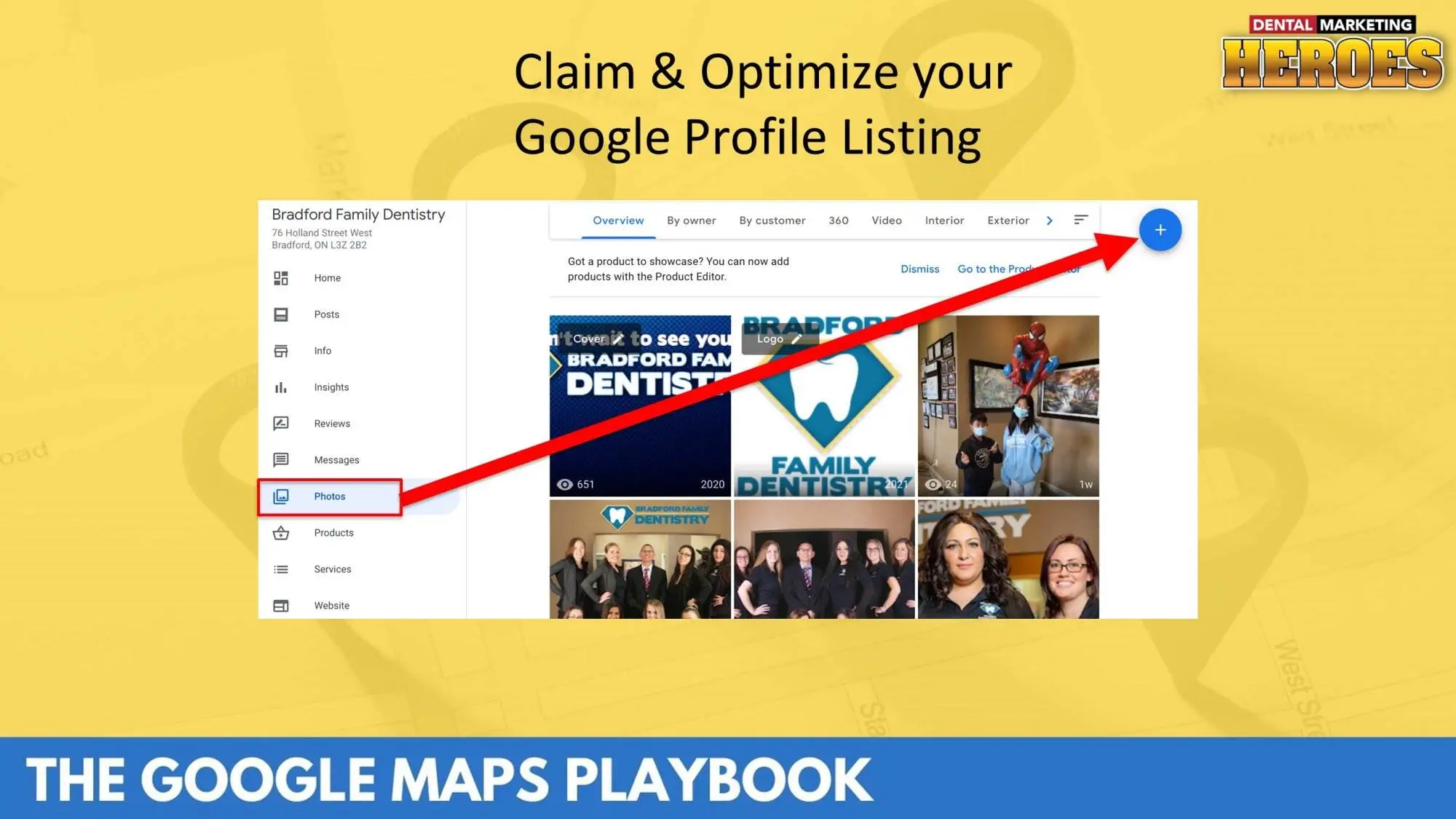 Again, posting photos is really important. Try by adding two or three photos per month just to keep fresh rotation happening on your Google Business Profile. Super easy, you go to the Photos tab, you click on the plus symbol, you give some information, you upload the photo — boom, it's done. It's super easy. And you can even ask your customers to do this from the Google search. They'll see your knowledge graph on the right, and then they can actually post their own photos of their clinic experience, which is awesome.
Google Business Profile Best Practices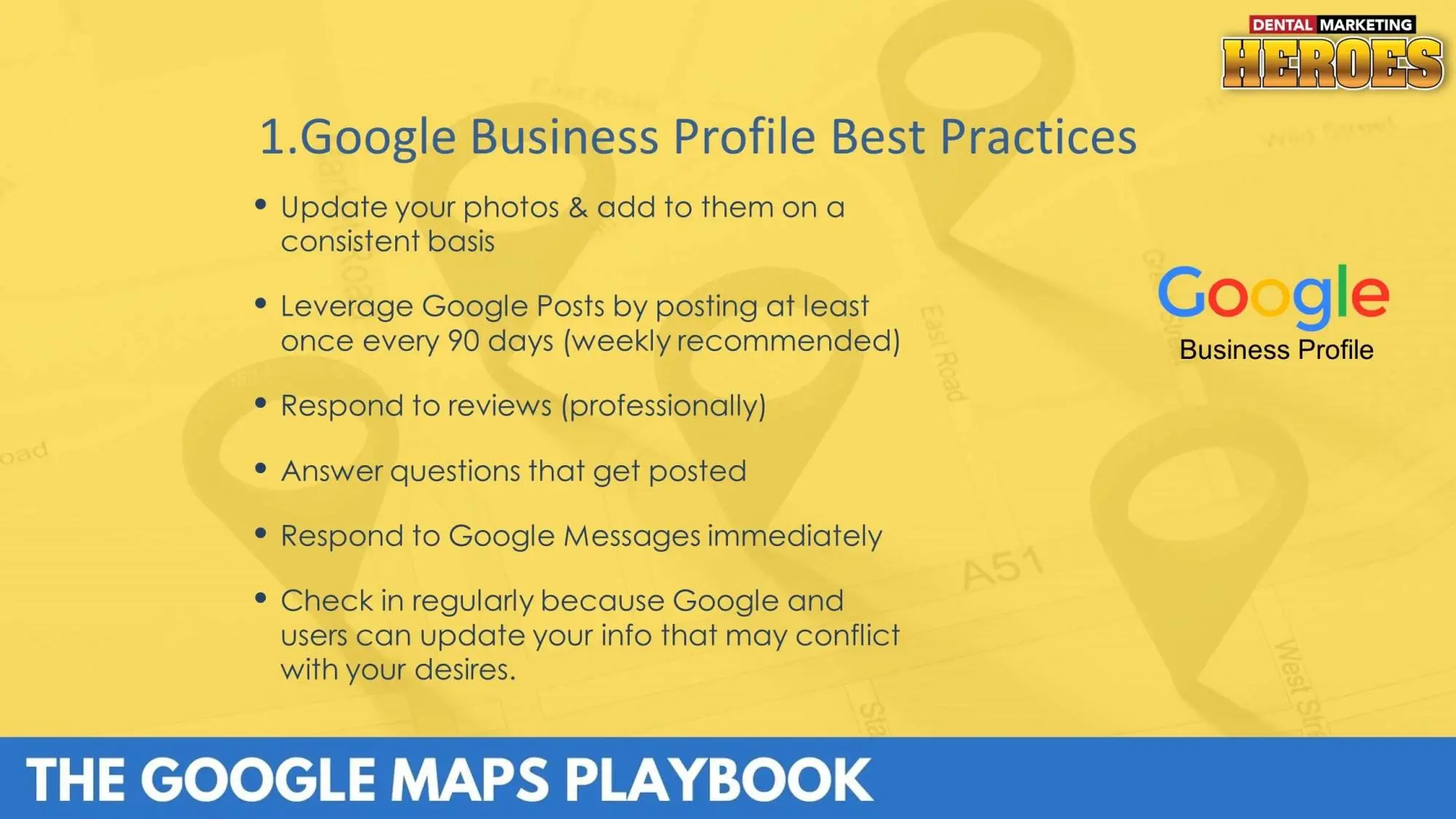 So as a recap of best practices…
Update your photos and add them on a consistent basis.
Leverage Google posts by posting at least every 90 days. Weekly is what I would recommend because they only stay alive for about seven days or so. So you need to consistently be posting.

And you can post all kinds of things. You can post events, you can post links to articles on your website, you can post deals, there's all sorts of things you can post. And so Google wants that. So you should be doing that.

You need to respond to reviews. And I put in brackets "professionally". If you get all riled up when you're looking at your reviews, you want to make sure that there's a dispassionate approach to it, a professional approach to it, and you need to respond to them, even if it's a negative review. So one of the helpful things a lot of our clients do is they actually allow or have asked us to respond to their reviews on their behalf so that we can do it in a dispassionate professional way, and we can do it in a way that actually helps their rankings. So if you're going to rank well on Maps, you're going to have to have lots of reviews, and you're going to have to have new reviews coming in on a consistent basis. Because both Google and consumers care about recency of reviews, the statistics show that. The other thing you're going to want to do is not just get the review you want to respond to it. If good reviews come in, that's fantastic. And the bad ones, hopefully you don't get a lot of bad reviews. No one likes bad reviews, but it happens. And we're going to get some bad or maybe mediocre reviews every now and then. And the important thing is that we respond. So when the person says, Dr. John was great and I highly recommend the practice, here's my five star review… You want to follow up on that. You say, hey, thank you so much for taking the time to post a review, we really appreciate you as a patient, and we really appreciate your review. And if you want to be smart, look at what you did for that patient. And you might want to add in that it was such a pleasure to perform your wisdom teeth removal or your teeth whitening in order to help keep your teeth healthy. And by doing that now, you've responded to the review. When somebody types in the specific service that you mentioned in there, those keywords will actually help you. If you start to respond to reviews and get some keywords in there that's going to help give context to the services that you provide. Because we don't just want to rank for 'dentist', we want to rank for 'teeth whitening', 'dental implants', 'root canals', 'mouth guards', 'sleep apnea', and on and on it goes. And so, yes, we're going to have that on our website. Yes, we're going to have that in our Google Business Profile services. We're going to do all of that.
The other thing is to answer questions as they get posted. What services do you offer? We do teeth whitening, we do root canals, and we do this. And for what areas do you serve? So you can actually see the questions within Google Business Profiles with your own questions and your own answers. But the public also has an opportunity to ask questions and you need to make sure that you're responding to them. As a best practice, we always suggest coming up with the top five or six questions that people are always asking you and putting those into your profile and seeding them because you're allowed to do that. It's totally okay with Google and it will help you show up for when people ask those questions when they Google them.
Respond to Google messages immediately. If you turn on Google messaging, you absolutely need to respond to them immediately. The reason is that people who use messaging expect immediate responses. So if you can't respond within three to five minutes maximum, turn it off. You are not going to be communicating in a way that those people want, and you will actually create a negative experience for them. But if you can respond quickly to them within three to five minutes Max, that is the way they've chosen to communicate with you. And that is a great way for you to continue the conversation. And of course, if it's a Google message, the goal you should have is actually to move them over to a phone call as quickly as possible because that's when you can start to really build a relationship. You have vocal intonations, you have the warmth that your team exudes. And of course, you can answer questions more quickly.
You need to check your Google Business Profile regularly. Not a lot of people know this, but Google and the users, like just general users, can update your information on your Google profile. And so a lot of times that information isn't actually the real information. Google may scrape it from a website or another profile, maybe an out of date profile. Somebody may put something up that says that you actually don't offer a service or you're not open on a particular day. And that might not be true. They may do it with good intentions to help others, but sometimes it's not right. So you need to make sure that you're in there at the very least a monthly basis, I would say even a weekly basis, because Google will actually implement those changes without you knowing it if you're not in there regularly. And this freaks out a lot of people because it's not cast in stone — what you put in there is not cast in stone. Google relies on its algorithms and web bots, as well as submissions from people to verify information on numerous accounts. Sometimes Google or another person can get it wrong, and that info will automatically be placed on your profile after a certain period of time. So you want to make sure to check it first. And the only way to do that is to log in regularly and check those updates.
2. Build Citations
Alright. Step number two is we want to build up those citations. These are directory citations. We want to build up references, as many references of your company's name, address and phone number across the Internet. And there are three critical parts to this.
First of all, more is better. You can never have too many directory citations. We want the main ones like Google and Yellow Pages, or YP as it's called for short, and City Search. There's a whole bunch of them out there. We also want the second tier ones, the ones that might not come to the top of your mind. There are literally thousands of online directories, and there are prominent ones. And then there's tier two and tier three ones, and there's some that are only local to your area. And don't forget about the Chamber of Commerce. Those are fantastic business directories with high authority scores. You want to be in those and also industry specific ones like RateMDs, your Dental Association's directory, TheDentistHub.org, EveryDentist.com and on and on the list goes and I'll provide a list a little bit later. There's all kinds of directories out there, and you want to be listed on those to create as many reference points for Google as possible. So that's one thing you want is more citations.
Number two is you want to make sure that you've got consistency. I talked a little bit about this before, but decide in advance, before you set up your directory listings, what your company name is going to be, what your address is that you want listed on there, how your address is going to be shown. For example, if you're on a Southwest Street, is Southwest going to be spelled out or is it going to be SW? Are you going to write out suite or unit or just the number sign before the number? It should be identical everywhere you use it on Google and in the directory listings and on your website. And you need to decide what phone number you will use. You want to use the same number as often as possible in most of those places. And just on the phone number side, I highly recommend using phone tracking numbers. That way you can actually track the number of calls coming in across the Web from those citations that you have. Use one tracking number for all your directories, not a different number for each listing that you have. What this will allow you to do is actually measure and attribute those phone calls from the directory citations. So that's a very powerful way to help to zone in on your return on investment.
And then number three, we want to make sure that we limit the number of duplicates and invalid information. And this is a big gotcha. If you're listed three times on Google with slight differences in your company name or slight differences in your address, that's going to create problems. If you've got lots of duplicate listings with fragmented information about you and your company on those second tier and third tier directory sites, that's going to negatively impact your ability to rank because Google's looking for consistency. We want to have lots of listings, but we also want to be consistent with how they are referenced.
All right, this is an industry insider shortcut. You can use what's called data aggregators. So there's citation services and directory listings, and then there's data aggregators. Data aggregators are sites that basically house business information and a lot of times, personal information, like the contact details of businesses and the individuals that work there. And they push that out to sites like Google and Yelp and Angie's List and you name it.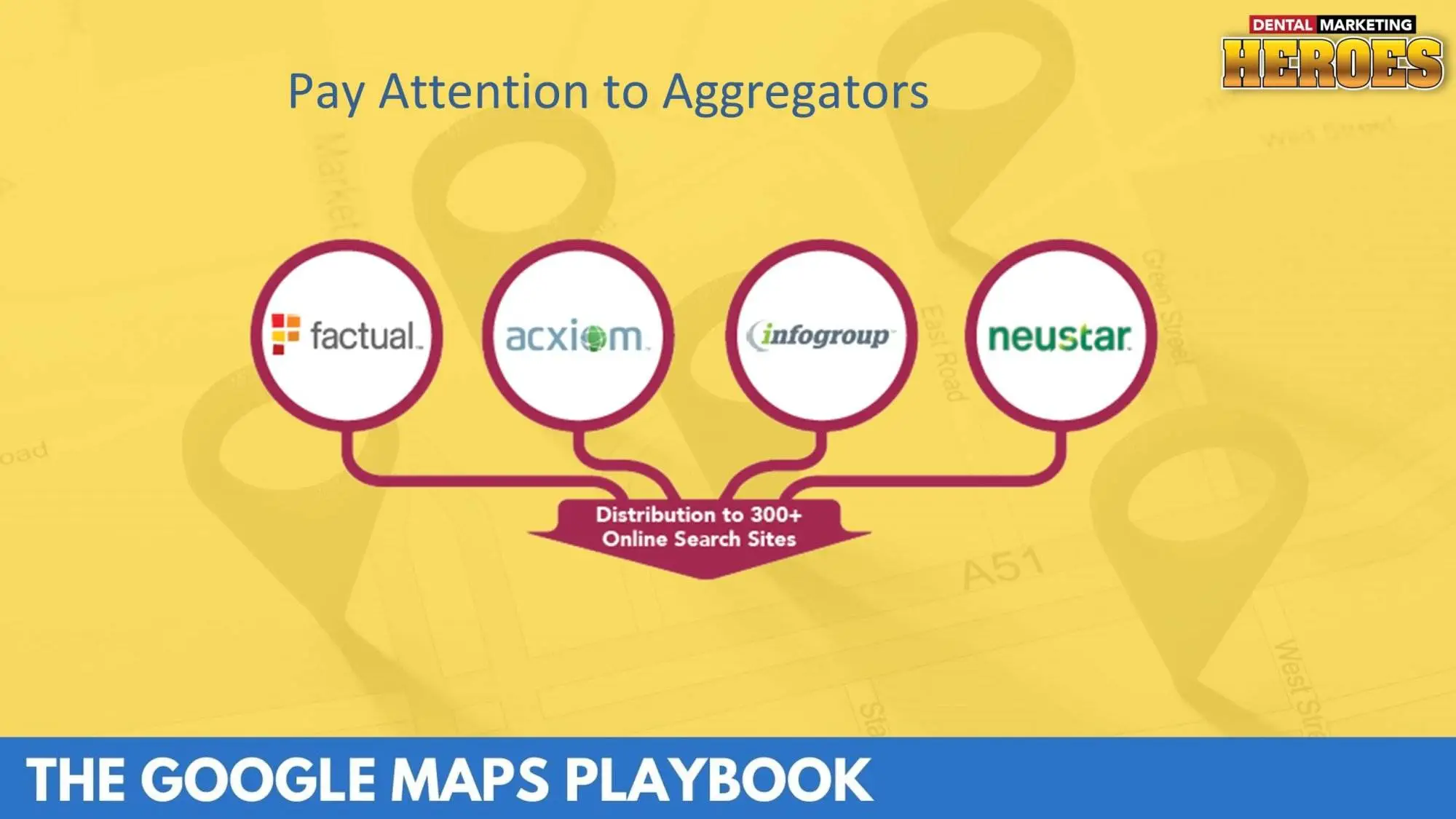 The four main aggregator companies are Factual, Acxiom, Infogroup, and Neustar. And if you want to be in control of your company's name, address and phone number across the Web and how it's being distributed, you want to make sure that you put your business into those data aggregators. This can also be an important step if you move your clinic to a new location, you'll need to update all of the listings out there across the entire Internet. And this can be a shortcut to do that.
So I recommend, again, claim your business in the data aggregators, spend the money because this is not a free service, or invest in a company like ours, an agency to help you with this, that will get this dialed in for you and invest it on your behalf.
Now let's look at the best tools for getting directory citations. There are tools that will push you out to the most important directories. I have a few favorites, and one of them is Yext. Yext is like the 100-pound gorilla in this space. And not everybody loves it. In fact, there are parts of it I don't like. But the reality is, Yext is the category King. They've got a direct API connection into the most important directory sources. So if you think about the 80/20 rule, we know that 20% of activity drives 80% of the results. That's true with directories and the power of directories that you're in and the consistency of listings and the directories that Yext accesses drives 20% of the results.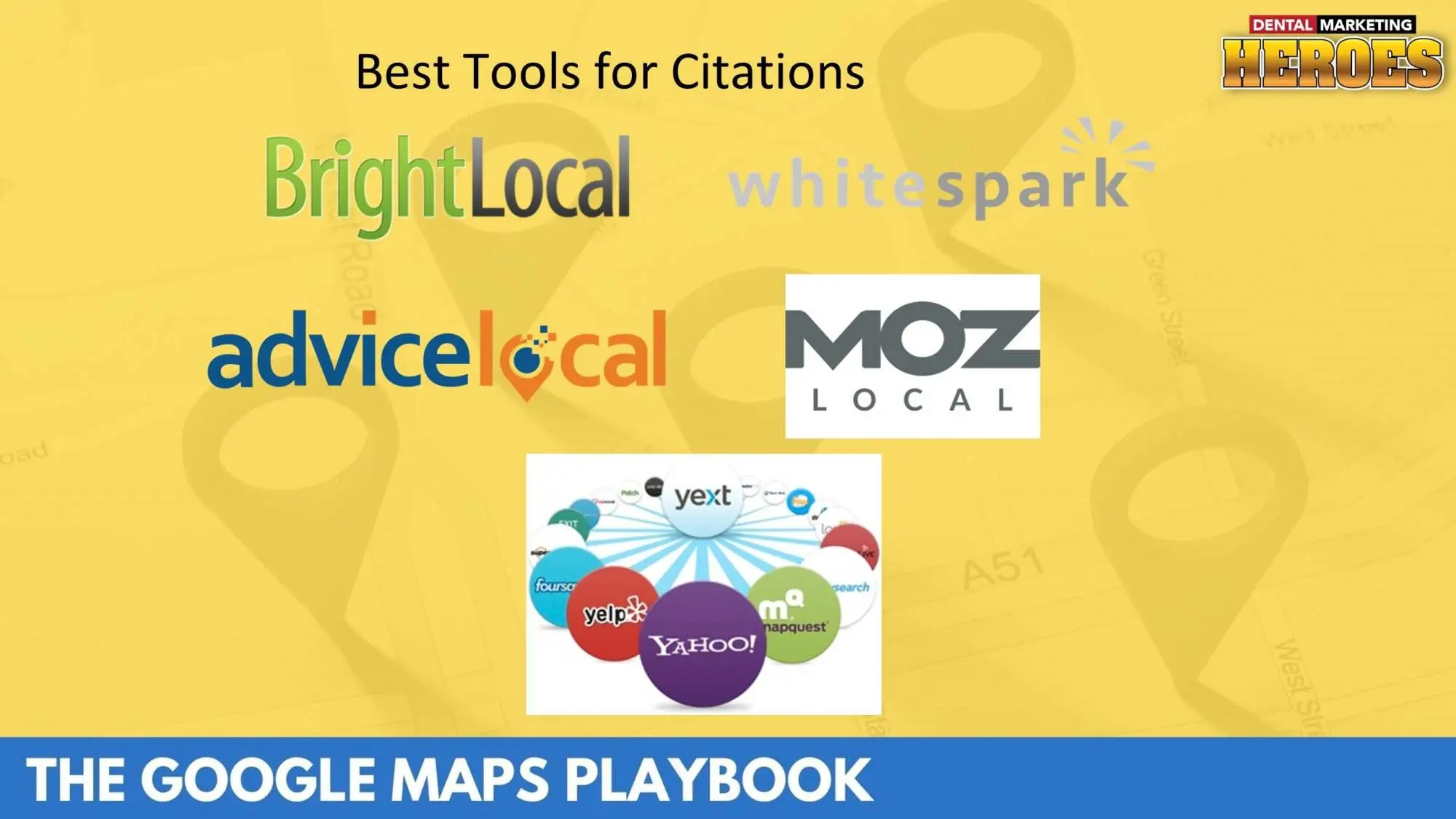 So whether you use a tool like Yext, or MozLocal, AdviceLocal, or BrightLocal… These are all sources that you go into and say, here's my company name, address and phone number and some information about us. And you give them the power to control those listings on your behalf and know that at least the main sites on the Internet are seeing that you've claimed and verified. And it's consistent. Any of these tools will help automate your listing management process.
But again, you don't want to stop with just the 20%. There's another 80% of directory listings out there that usually need to be claimed on a more manual basis, or using a service like BrightLocal who will actually go out and do that for you. They're the local business directories in your town. They're the industry-specific directory on the Internet that wouldn't hit the radar of those big profiles. And so either build your own list or use a tool like BrightLocal or WhiteSpark to help you find additional directory sources.
And this will really help you with this whole citation play. It will help you find inconsistencies, it will help you find third tier and second tier listings that you can add yourself to, which again, is going to help with your directory listings. I'm not trying to get technical, but the fact is, if you want to get this done right and you want to optimize your opportunities to rank in Google Maps, these are the things you want to think about and you want to know about. And you can choose to run down this path on your own, or you can hire a company like ours where we do all of this for you and handle it on your behalf so that you can focus on what you do best.
Free Citation Consistency & Accuracy Check
I've got a great free resource that gives you an opportunity to enter your company name, your address and your basic details. It's free. And what it will do is it will scan the Internet and it will tell you how consistent or inconsistent your listings are on the main sites like Google, Yahoo, Bing, and City Search, white pages, MapQuest, and a host of others. The 20% part of that equation. And so if you go to Dental Marketing Heroes, Dental SEO Report or even easier to scan the QR code below, you can get this free scan for your practice.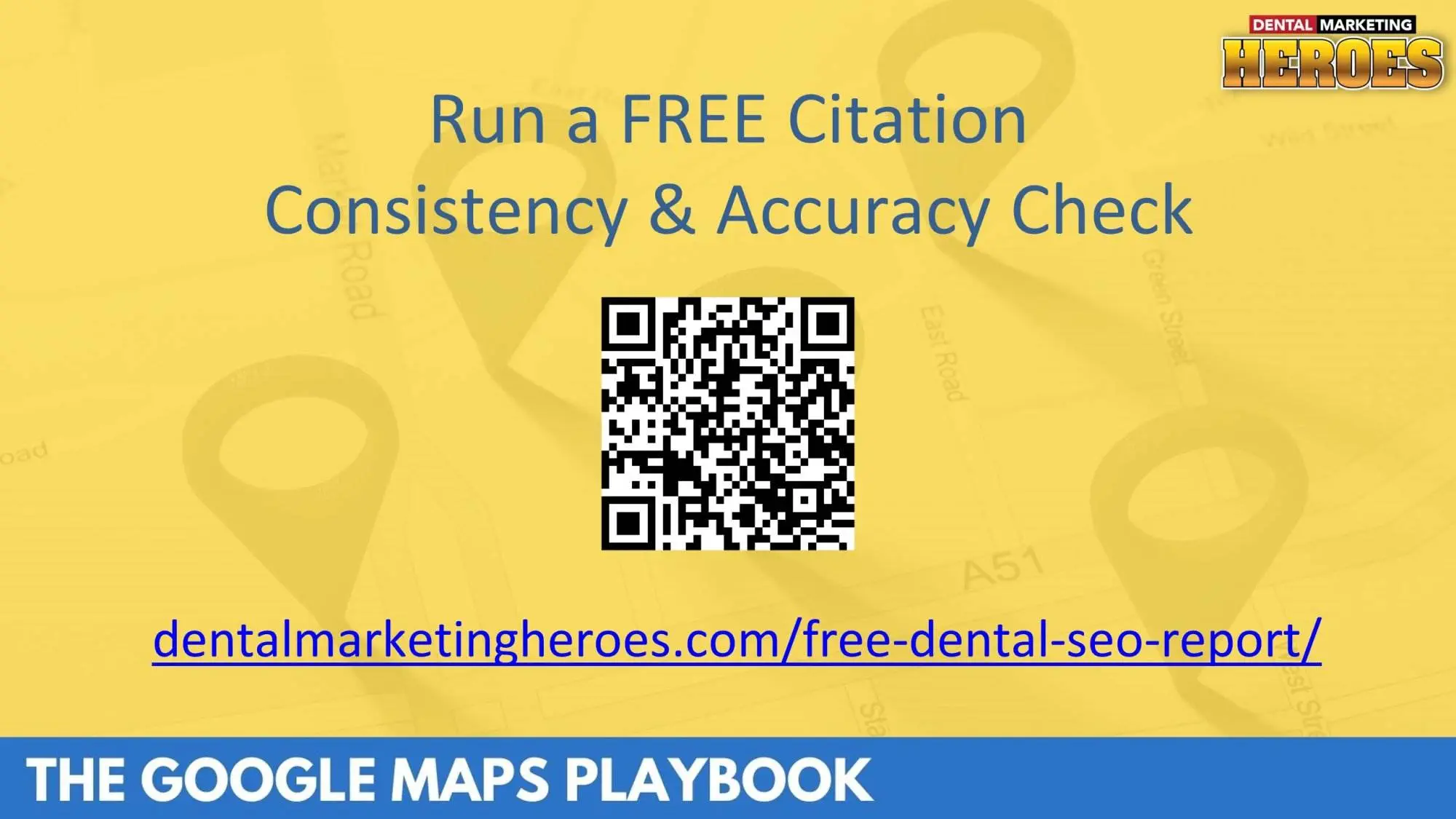 I'll also put this in follow-up emails to you. It's super easy. You enter your practice information, it starts the scan for you, and it spits out a beautiful report that will give you a grade and information about where things are incorrect. And you can improve those and you'll get that report. It's easy to understand and it's a free way to audit your listings.
Citation Best Practices
Here are the key things you want to take away.
You need to manually claim your Google Business Profile listing. Don't let Yext or any of the other tools do this. You need to manually claim your Google listing for sure.

Then use a tool like Yext or some of the other ones I mentioned to get listed on the top 50 directories quickly.

That's kind of the 20% of the most important directories.
Get yourself under control on those data aggregators, those four data aggregators I told you about, and then…
Leverage a tool like a Brightlocal or WhiteSpark to find those 2nd, 3rd, 4th tier directories so you can get more of the less obvious listings that you can tap into. And, of course, look at your local directories, your local Chamber of Commerce, your dental association, and ensure that you again, consistently list your business on those. And just an example, here's a list of some of the most popular online directories for dentists… We've got Yelp, Facebook, MapQuest, Manta, Yellow Pages, Super Pages, White Pages, Dex Knows, HealthGrades, and on and on.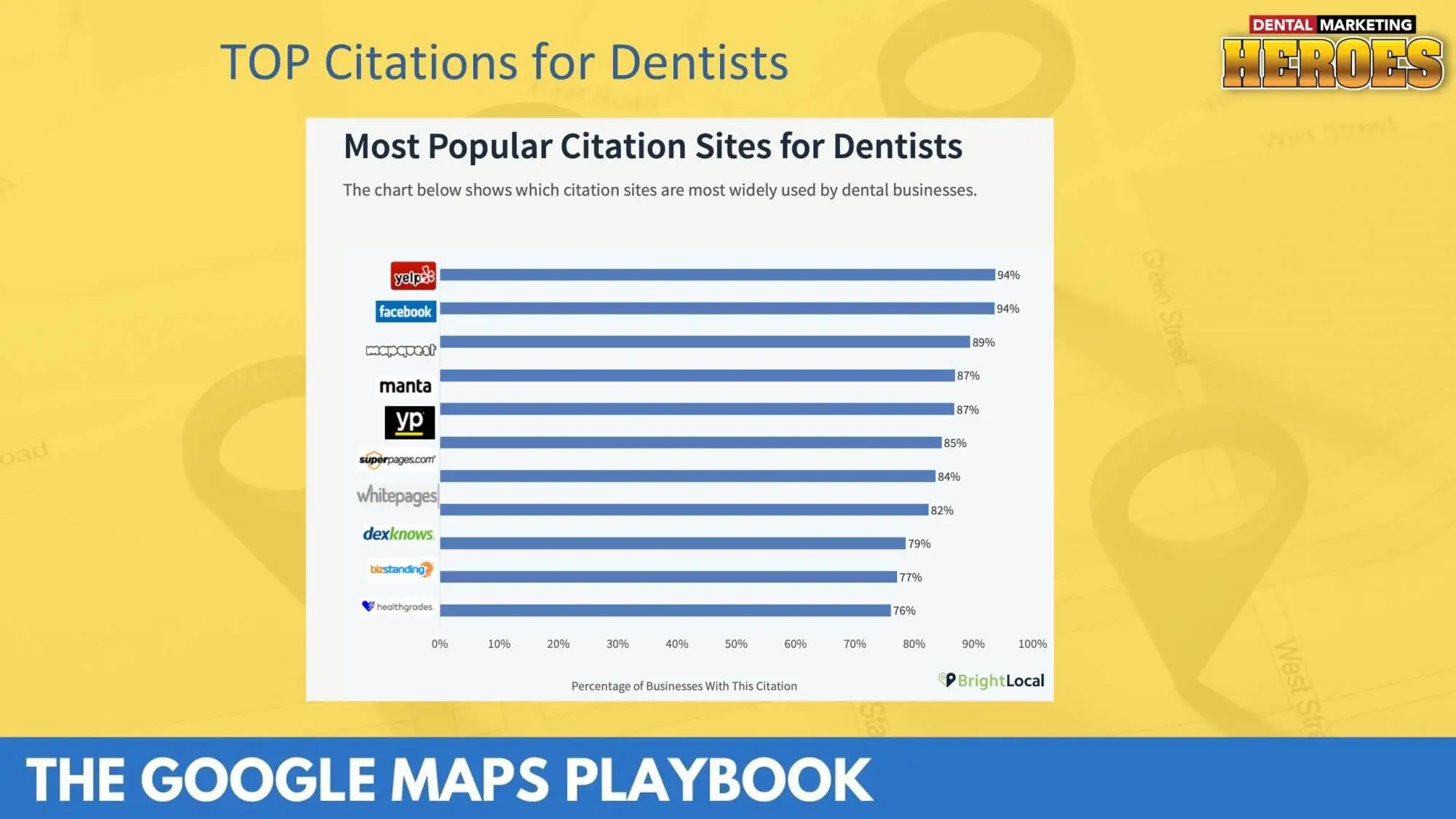 And then when we look at some more specific ones for dentists, these are more healthcare related ones… We've got Vitals.com, We've got Wellness.com, familydentaldirectory.com, Doctor.com, caredash, and on and on. This list can be quite long. So these tools can greatly help you simplify that process. Okay, so that's number two.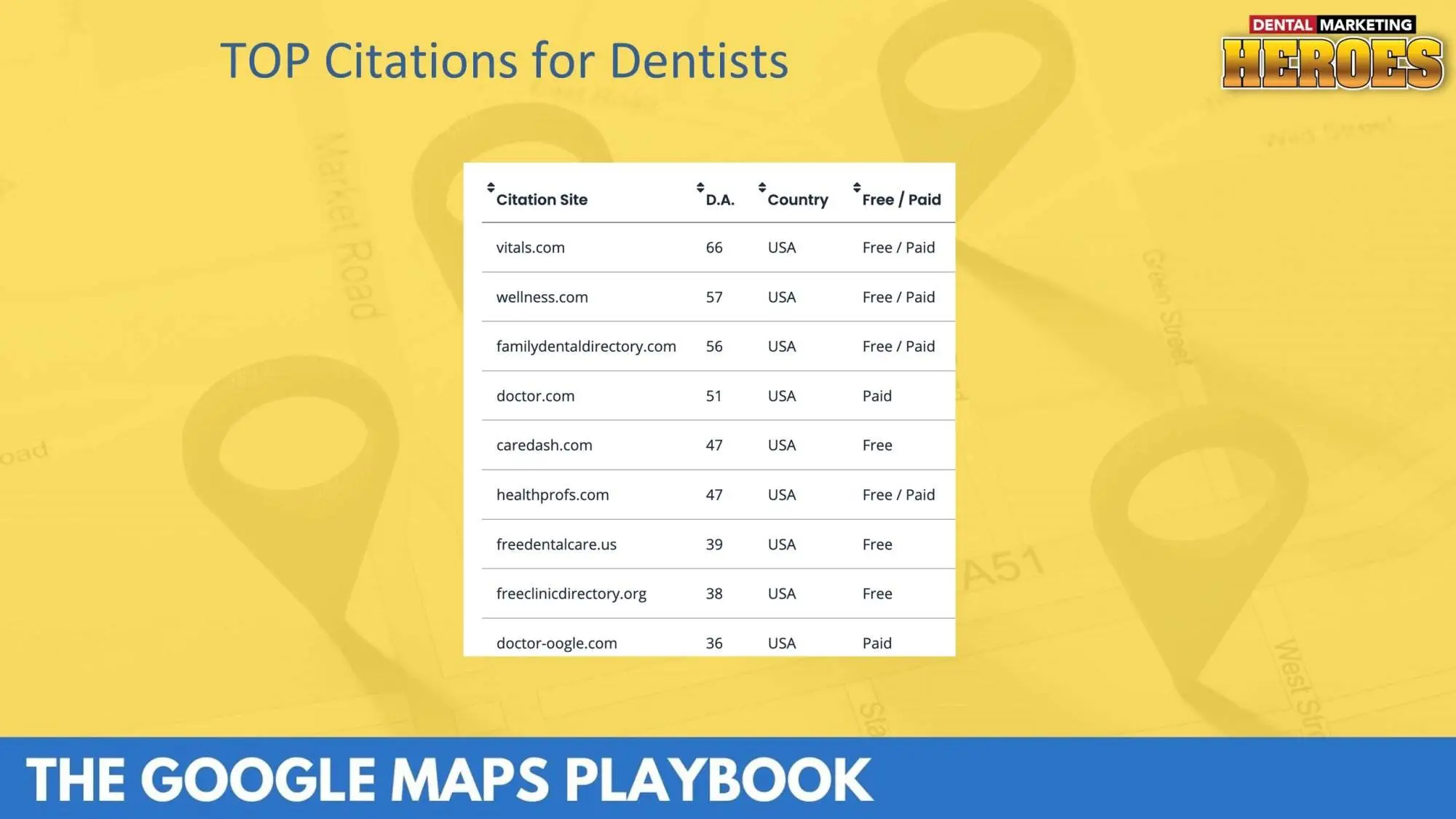 3. Reviews
Number three is we need reviews, right. All other things being equal, we talked about the company with the most reviews is going to win. All other things being equal… Your competition has also claimed their Google business profile. They've optimized it. They've got lots of citations. Ultimately, the dentist with the most real reviews from real patients in your area with good rankings is going to wind up winning out over time.
There are things you can do to optimize for online reviews to get more reviews. And I'm not talking about gaming the system. I'm absolutely not talking about fake reviews. I'm talking about real reviews from real patients in your area.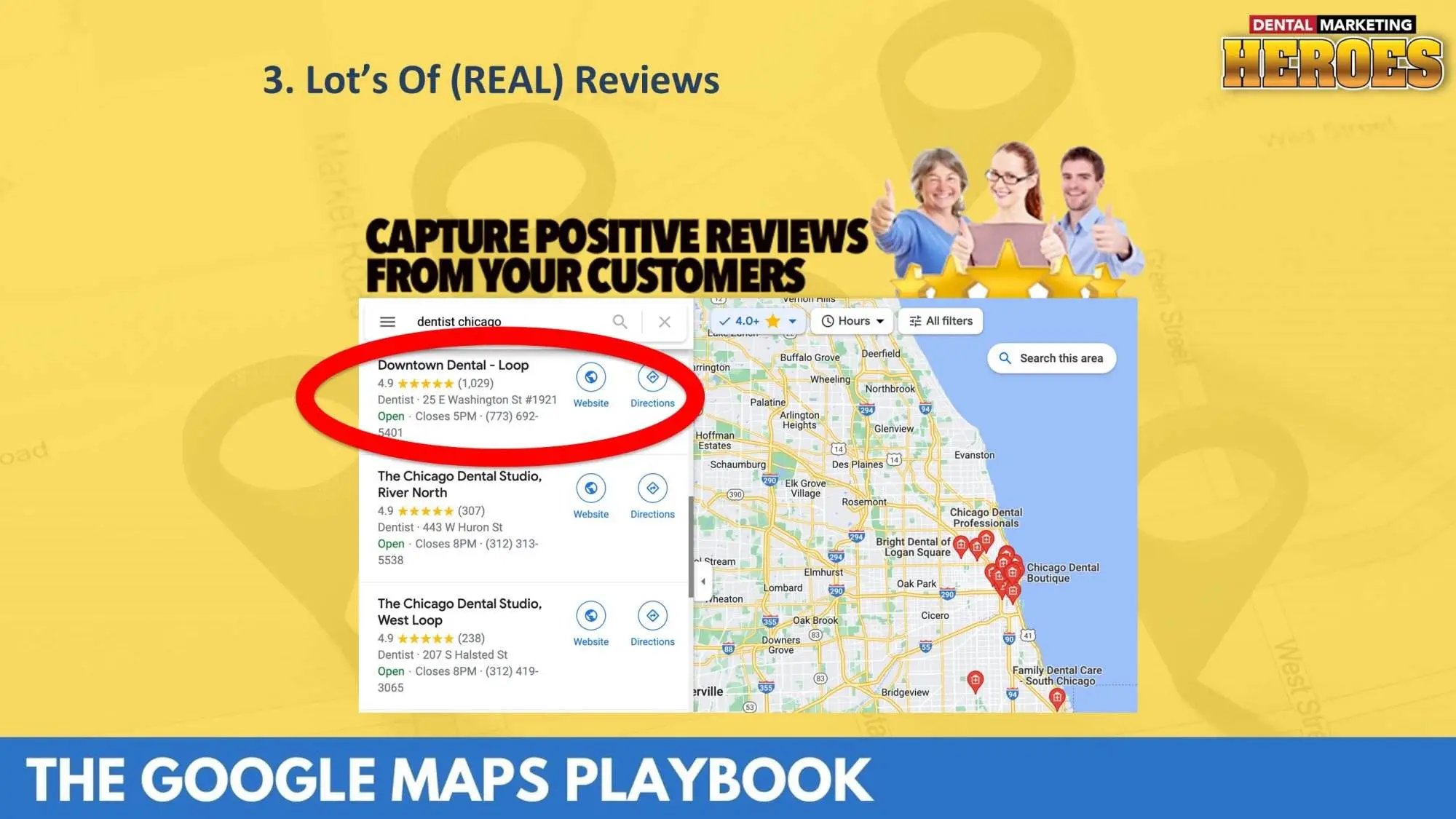 First thing on this front is you have to create a great customer experience. This should go without saying, but I feel I need to say it. You absolutely need to create a great customer experience. And you know this, so I'm not going to spend a lot of time on it. But you want to provide a great patient experience — from the appointment request, the follow up calls, the reception in your clinic, the waiting area being on time for appointments, to great treatment and after-care, to a smooth checkout process.
You want to create an experience where they're like, wow, that was the best dentist I've ever been to. You want your patients thinking, "They provided a great experience. They were a great practice". That's the first part. And, "They really care about me".
The second thing is you want to train your team that they need to create the experience and that their job is going to be measured on the feedback that customers are giving and on their ability to get reviews from the customers and the patients they serve. You want to bake that into your company culture so everyone on your team knows the review request is going to go out after treatment. They should be planting the seed with the patient. They should be saying, "Hey, it was great to serve you today. We really appreciate you as a patient. Just so you know, you're going to get a review request here in a couple of minutes on your cell phone. It means a lot to me if you would click that button and write a review because my performance and our clinic is gauged on those reviews by the public. Ms. Customer, will you write a review for me?"
Yes. I find our clients that have trained their teams to have that conversation and to plant that seed, get more reviews and wind up being more effective over time. We also find it to be a good practice to have something physical, like a printed review card with a QR code, at your reception desk or maybe a little sign at the reception desk. There's lots of tools that help automate this.
There's one thing I found that has a bigger impact than anything on our client's ability to get online reviews, is that they baked it into their company culture, which means as you meet with your teams on a weekly basis or you do monthly huddles, you're teaching them, you're training them, you're bringing them up to speed with what is going on. Part of it, though, should be to highlight the wins. Like, "Hey, look at this, look how many reviews we got this past month? And Congratulations, Jenny! Jenny, you've got 17 reviews with an average of five stars. Well done. Round of applause for Jenny!" And if you do that and you make this part of the way you operate, you're going to get more reviews and it's going to become more consistent. And of course, your patients are going to be getting a better experience as well.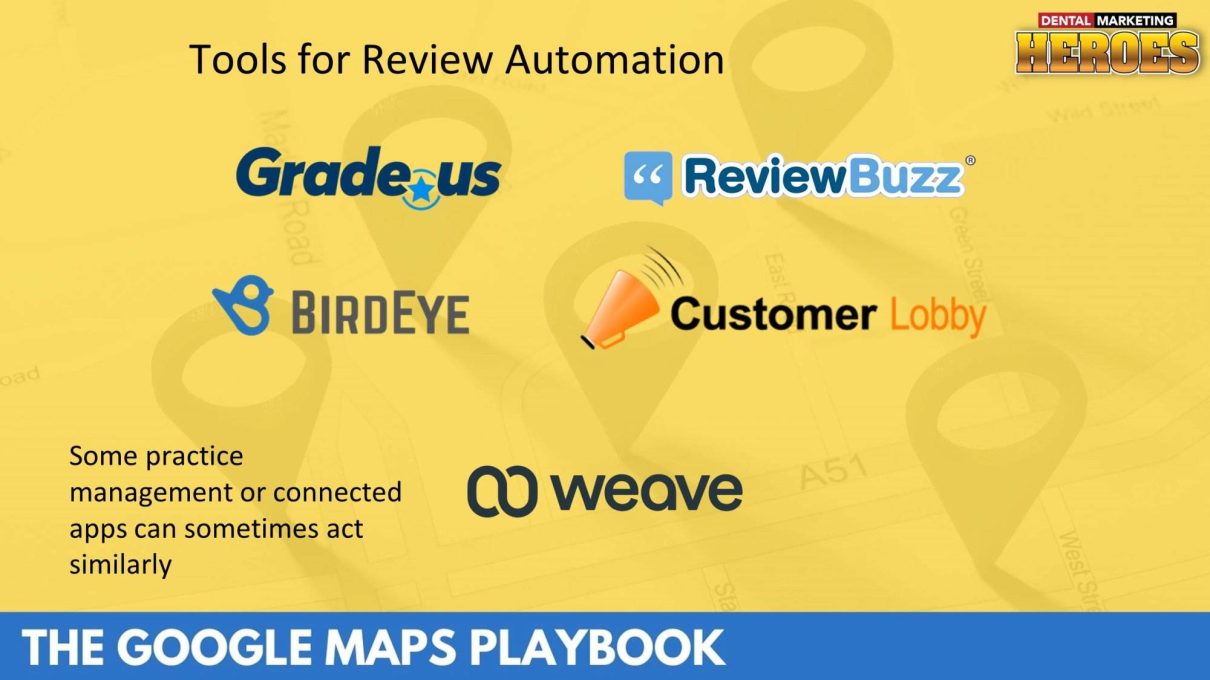 And like I said, there's lots of tools that can automate this process. Please don't be sending one-off emails or one-off text messages after every patient visit. Tools like Grade.us, or ReviewBuzz, BirdEye, CustomerLobby, and many more tools help integrate a review system into your practice. There's more than these, but these are the most common tools. I don't really care as much about what tool you use.
I do care, though, that you're using automation, and then an email and a text message with a little bit of follow-up goes out after every single patient visit. If you do that, you're going to have consistent reviews. And then don't just send them to Google. Google is by far the best place, but send them to some of the other sites as well, like RateMDs or Facebook. Some of the other ones we talked about.
Leverage Automation
There's a Ninja hack that works extremely well. And if you look at the clients we work with, the people that use this Ninja hack usually have about ten times more reviews than all of the other clients. The Ninja hack is to leverage automation. And by automation, I mean if somebody has to push a button on your team to request the review, that creates friction, it slows down the whole process. So if your staff is manually requesting the review, I find that one in ten review requests actually get done.
Some practice management apps and support apps have review systems built in, which means as soon as someone is invoiced on the way out, they receive a review request shortly after that. But make sure it can text people and email them, because texting gets a way higher response rate, in the 90th percentile. So what you want to do is make sure that you've tapped into the API connection. That's the connection between applications of whatever practice management platform you use. The clients we have that are getting ten times more reviews than everybody else basically have it that once the patient checks out, the review request is automatically triggered and reminders go out as well. So you close out the patient and that automatically sends a text message and an email to the patient.
So try and figure out, does your platform have some type of API connection which can connect it to the tools like the ones I've mentioned? And could you automate the process and eliminate that friction? And just as every patient visit results in a review request sent out, for every review request, about one in five results in a review. So if you can get that type of velocity, you're going to have so many more reviews than your competition that it's going to be hard for them to keep up. You're going to dominate the map results. And if you're consistently responding to those reviews as they come in with intelligent responses infused with keywords, you will be miles ahead. And of course, our agency can help set all of this up and manage it for you so you don't have to worry about it at all.
4. On-Site Optimization
Step four, we want to optimize the on-page elements on our website, and this is super relevant because Google Business Profiles and Maps connect to your website, right? You want to make sure there's a connection there, and you want to make sure you're creating as much relevance as possible. This is a huge topic and we have an entire webinar on this topic. Today I'm just giving you a brief overview, but if you want to refer to that other webinar, it's on our website under the free webinars section. You can check that out. I highly recommend it.
Number one, we want to ensure our website is designed to attract, engage and convert visitors into patients. To do this, we need really good content. We need to differentiate ourselves from the competition, and we need to provide a great user experience and very clear calls to action.
Number two, you should leverage multimedia to engage visitors with content that will keep them on the page longer, but more importantly, it will create a connection and authenticity in the form that they like to digest.
Number three, you should definitely build out pages for each of your services and sub-services and these should be at least 1000 words long. So don't use short form content. Don't just post a title and an image and a little blurb — that's not going to cut it. You need really well written copy. That again, is designed to help Google make that relevance connection, but also to draw people in when they're looking for that particular service and making the connection with you.
Number four you should build out location pages that are designed to help Google see that you serve the areas surrounding your clinic. This will help you show up in those geographies and help strengthen you in areas you're not inherently strong in, anything outside of your immediate location. These will help boost that a bit. You'll never be as strong as a competitor that's right in that location, but it will definitely help you beat out other competitors that are further away.
Number five, every page should be unique. Don't just copy and paste info between pages. Google doesn't like that and it certainly doesn't help prospective patients learn anything about you. I've seen this done before. It doesn't help in any way. In fact, it hurts you.
Number six, you need to do good keyword research to determine what keywords people in your area are actually searching for related to dentists and your services. Don't just use a keyword list that you find on the web. Do the actual research, and of course, businesses like ours can help you with that.
Number seven, once you've done the research, you need to incorporate those keywords and their synonyms into your page title, your copy, your H1 and H2 tags in a natural way. The last point is huge since Google made a really big change last year that actually often overrides your page titles with H1 tags it finds on your page. So if you don't have well thought-out keyword-researched H1 tags on your page, you're going to lose and your SEO organic rankings are going to drop.
Number eight, meta descriptions are really important. This is the short blurb that Google shows when your page shows up on a search result. It is also a huge connector of relevant keywords for Google to ensure it's showing the best results. And you want to make sure those are compelling because that is what's going to draw people to click on those search results.
Number nine, Name, Address and Phone Number in your website footer. It's super easy thing to do, but it's often overlooked. Make it easy for Google to match your Google Business Profile name, address, phone number with that on your website. You should also have a Google map on your website as well because again, that creates connection.
Blogging. This can be a powerful way to propel your website rankings past your competition if your blogs are over 1000 words long and are aligned with keywords and topical searches that people are looking for. If they're just shooting things off the top of your mind and they're not relevant to what people are looking for, they will not help you. But if they are strategic blog posts or content then Google is going to connect with what people are searching for.
Google Core Web Vitals is a huge disrupter in the industry. Google implemented this last year and it has caused a huge ranking upheaval. It focuses on some key technical aspects of your website related to speed and user experience. And you must pay attention to this. And Google offers a scanner that helps you know how you're doing and also the Google Search console. Again, these aren't things that most people know about but that we use in the industry in order to know how a website is viewed by Google. So you must be paying attention to this if you want to rank well.
SEO is a topic that I'm very passionate about, as you can probably tell. And if you'd like to dig deeper into this topic, please watch my webinar on SEO. And if you want the help of a team that's super passionate and extremely good at this, please connect with me.
So we've talked about Google Business Profile. We've talked about the importance of directory citations and how to get them. We've talked about the vital need for a constant flow of reviews and we just reviewed on-page SEO. The last thing that's really important is off-page SEO.
Off-Page SEO
Off-page SEO is anything that you can control off your website that helps with organic rankings. So directory citations, your Google Business Profile are some of those things. In addition to this, you should be attracting and growing authoritative backlinks to your website. These are when other sites link to your website to reference good content. So to make this happen, you need to consistently create great shareable content that people devour, that aligns with what people want and are searching for.
And when you add in strategic content syndication that gets your content out into the broader world, you can create a very strong backlink strategy to your website that will help you significantly beat out your competition on organic rankings. It should be noted that a simple blog post on your website just doesn't cut it anymore. You have to be strategic in what you're writing, aligned with keyword research. You have to optimize the heck out of those blog posts and you have to optimize your blog posts for SEO. And you need to get your blog posts out into the broader world. So you have to have a system that sends out the right signals to Google, and this is where we can help — reach out to us about that.
So let's review what we've covered today to get you ranked on Google Maps.
We've talked about on-page SEO elements, how you need pages for each service and main cities. You need to optimize titles, H1 tags, URLs, images, etc. You need to create unique content for all of your pages.

We've talked about Google Business Profiles, how you need to claim and optimize your maps. You need to add to Yext or some other citation management platform. You need to add major data aggregators.
You need to put a system in place for driving online reviews, and you need to add new citations on an ongoing basis.
We've talked about the importance of building ongoing content, that you need to push new blog posts out and syndicate them via a signal engine.
We've talked about the importance of creating signals that you can leverage. You need to convey expertise and authority and trust. You need to also build backlinks back to your website, your Google Business Profile listing and internal pages on your site.
You should have multiple map embeds on your website and you should be creating fresh content on your website every single month. And these create signals that Google wants to see.
And as mentioned at the beginning of the webinar, I want to share some resources that will really help you in your efforts to rank better on Google Maps. The first is a great eBook that I just co-authored with some of the top marketing experts around the world called Mastering Google Business Profiles for Your Local Business. This is a 35-page eBook. It's jam-packed with even more detail than what we've covered today, which is hard to believe, and how to get the most out of your Google Business Profile and map listings. It's free to you to download using the QR code or the link you see here.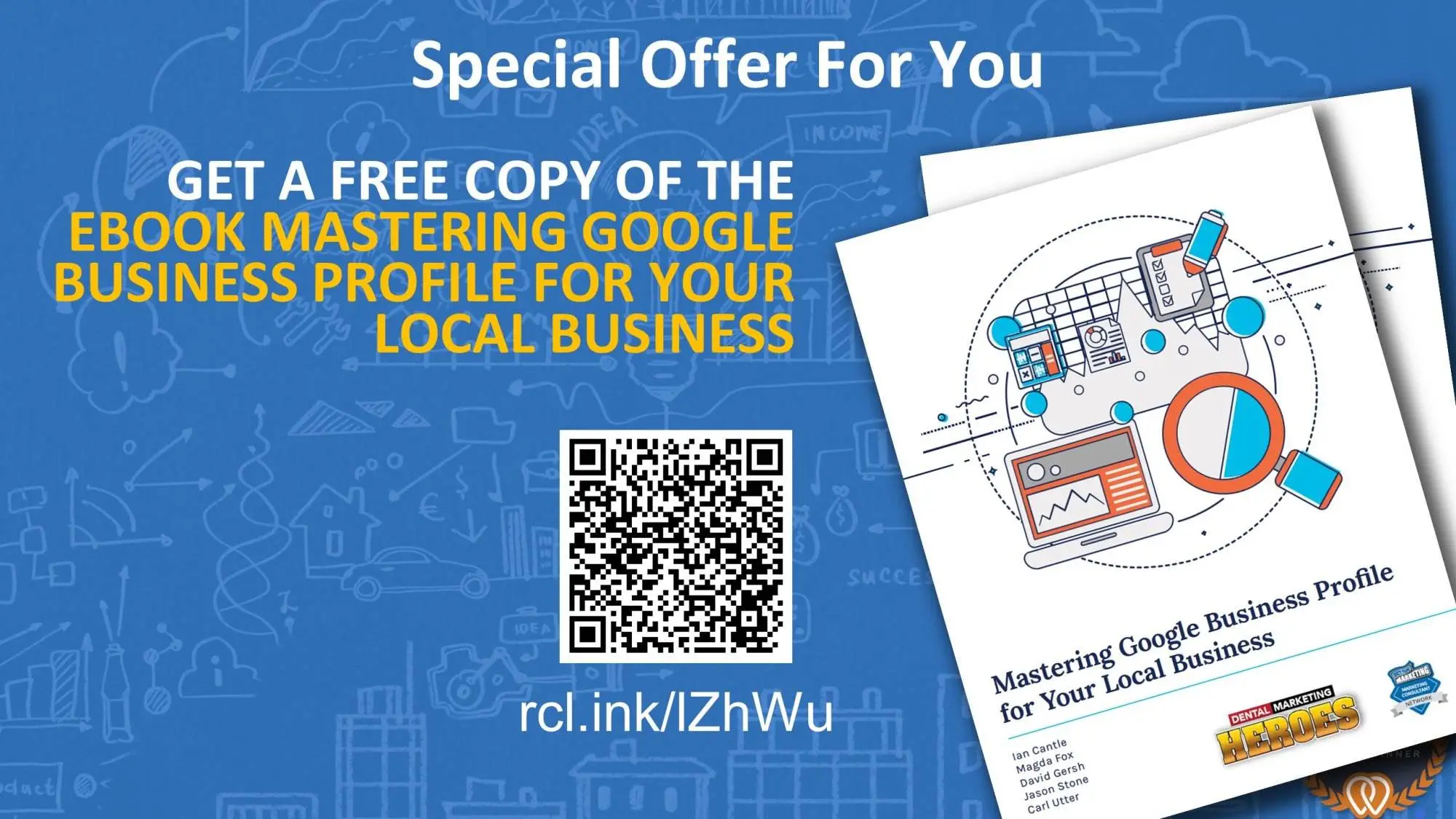 And of course, I want to make myself and my team available to you for a free strategy session. Just click on the link in the emails that will follow this webinar and book a time with me.
Also, you can see a full lineup of past and future dental marketing webinars at Dental Marketing Heroes. Just navigate to the Free Resources section in the navigation and click on Free Webinars. All past webinar recordings are available and you can get immediate access to those.
And lastly, I want to remind you about the free SEO scan that I mentioned earlier. You can get that at dentalmarketingheroes.com/free-dental-seo-report or just scan the QR code.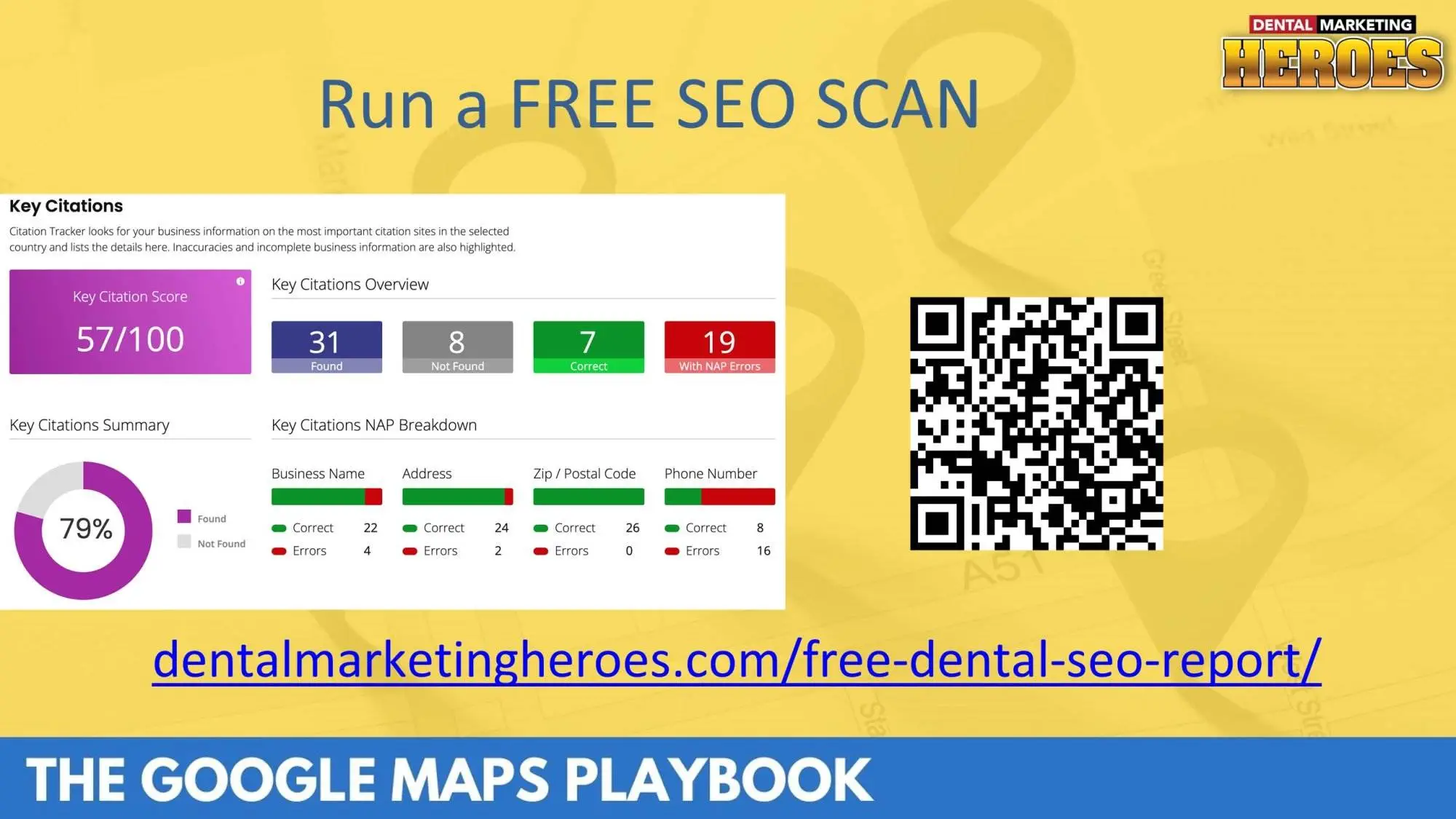 So if you're ready to have a team of passionate dental marketing heroes help you with your marketing, give us a call or drop us a line. And thank you for joining us today. I hope you got a lot out of this webinar and that your Google Map rankings will propel you forward.
Join us for our next free webinar on Friday, August 5th, 2022 at 12pm ET:  'How To Tap Into The Power Of Authoritative Paid Online Directory Sites'
And of course, keep calm and market on!