Is your dental website in need of a facelift? Are you considering a dental website redesign? Even if you've spruced it up in the past couple of years, it might be outdated. And, if that's the case, your website's lacklustre design could be hurting your business.
The key to a successful web redesign is understanding what the latest trends and tools are. Here's what you need to know.
Dental Website Redesign Checklist
Let's start with an overview of what you should be looking at as a dental practitioner. Then, we'll drill down into some of the specifics, including my recommendations for the best tools to use for your redesign. Here are the steps to follow for your redesign.
Audit your existing site. It's important to make an impartial accounting of your website as it is now to determine whether you need to invest in a redesign. Your review should include:

Is your current dental website attracting new patients for your practice? Are you ranking on page one of Google?  Is your key Call To Action clear and always available on your site?
A review of your Google Analytics to see which aspects of your site are still performing up to your expectations, and what things need improvement.
A look at your website's aesthetics to see if its appearance is negatively impacting the user experience.
A look at the technical aspects of your website, including plug-ins, security, links, and so on.

Decide what your goals are. Perhaps you want to increase conversions, attract more leads, drive more appointment requests or phone calls, or increase your profits by 10% this year. Whatever your goals are, it's important to keep them in mind during your dental website redesign.
Think about design options. Are you rebranding at the same time you'll be redesigning your site? If so, your new design should reflect your new logo, colors, and brand identity.
Create a site map. Your site map is an overview of the site's architecture. It should include a complete overview of your menus and navigation with an eye toward creating an optimal user experience.
Employ design best practices. Why mess with what is proven to convert best? That means including plenty of white space, putting your call to action above the fold, implementing light boxes and other conversion boosters, and linking your logo back to your home page.
Research keywords. Keep in mind that recent trends favor long-tail local keywords and voice search. To outrank your competition for top local keywords you'll need to laser-focus your SEO to get the best results.
Research the market and your competitors. It's always a good idea to review your competitors' websites and see what you can learn. For example, you might see that most of your competitors blog twice a week and have online stores. That's information you can use in your own redesign. But be careful that you're not following your competition to the bottom.  Even the biggest companies can make the mistake of assuming their competition is doing a better job then their own.  However competitor research can help you zero-in on who is doing a good job and learn from their efforts.
Create evergreen content. If you have outdated content on your site, your redesign is the best time to update it. Evergreen content is extremely useful because it remains fresh with the passage of time.
Take advantage of the latest website tech. The internet has evolved since 2012… Your web redesign should employ the latest plug-ins and technology. For example, you may want to consider adding a chatbot for customer service or using a plug-in that allows visitors to your site to write reviews.
Social Proof. Many dental practices talk about themselves and fail to leverage their happy patients testimonials to sell new prospects on the benefits of choosing to try your services. Leverage the power of reviews and testimonials to help drive conversions.
Using this quick checklist will ensure that your redesign covers all the bases.
Tools for Your Dental Website Redesign
I always like to recommend tools and resources to dental practice owners. After all, you've got enough on your plate!
Website Platforms
Let's start with web design platforms. Here is the one I'd recommend.
WordPress. WordPress is the single most popular web design platform in the world for a reason. They've got thousands of templates, a huge library of plug-ins, and an interface that's easy to use even if you don't have web design experience.
Website Tools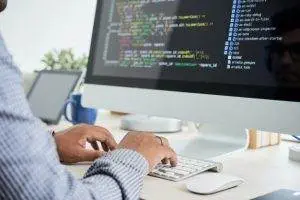 Once you've chosen a platform, the next step is to choose the other tools to make your website look and perform up to your standards. Here are some other tools I recommend.
Once your dental website redesign is completed, I recommend reviewing your Google Analytics regularly. That way, you'll be able to spot potential problem areas and fix them before they have a negative impact on your business.
After reading this checklist you may find yourself feeling overwhelmed.  Website design for your dental practice is a vital part of your business and I highly recommend engaging a dental marketing agency to build your website for you (such as Dental Marketing Heroes).  A good dental marketing agency will think big picture for you, guide you in best practices and if they're really good, your SEO will propel you to the top of Google and your site will convert visitors into patients.